Hexic- First Look


Playing Xbox Live arcade on the Xbox 360 is rather like dining out at a posh expensive restaurant but ordering burger and chips. A fancy restaurant offers many beautiful exotic dishes to tickle your taste buds,but by buying burger and chips you know exactly what to expect.

Hexic provides a safe and refreshing alternative to other graphically and technically superior launch titles. The game can be downloaded for free via the extensive Xbox 360 dashboard, providing you have stumped up enough cash for the rather noisy harddrive.

Similar to Bejewelled, Hexic is a psychedelic pizzle game that utilises every one of your tiny brain cells. Using your X and A buttons, or left and right triggers if preferred, you rotate trios of coloured hexagons in an attempt to match them up with adjoining hexagons of the same colour. Once matched up they vanish and new hexagons drop down to replace them. There are different objectives to unlock which are uploaded, along with your score, to the Xbox live leaderboards. The more colours you can match up in one turn, the more points are awarded. Still with me?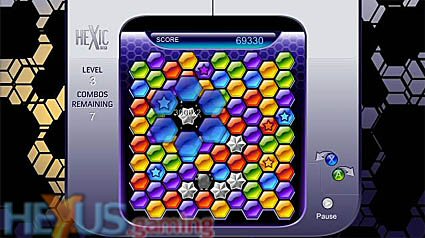 A Psychadelic Puzzle Game



It's a simple,addictive premise and a welcome addition to the array of features on the dashboard. After a short period the bright colours make your eyeballs ache. Unfortunately there is no option to change this, although you could just turn down the brightness on your t.v. There are three modes, marathon, survival and timed. In Marathon mode hours literally evaporate into the ether as you slug through all the levels from the beginning. Survival and timed modes add a extra edge and allow you to compete aganst the clock. It's hardly heart pounding, it's just good old fashioned fun

The great thing about Hexic is the ability to jump into a game whereever you are in the 360 world. Fancy a break from wacking psychos with metal pipes in Condemned? Need a rest from the high octane action of PGR3? By pressing the glowing X button on your controller the game will pause. Just select Hexic and off you go into the hallucinogenic land of the puzzle.

There are many more titles including Gauntlet (our gaming editor's curent fave-rave) which are available for download ataffordable prices. Xbox Live arcade could be a great way to escape the those frantic first person shooters.