On this day five years ago, Xbox 360 launched in the U.K with games such as Perfect Dark Zero and Condemned. Since then, there's been dozens of brilliant games and to celebrate the anniversary of the console, we've racked our brains long and hard at HEXUS towers to come up with our top five favourite titles.

Having chosen The Orange Box at number five, and Grand Theft Auto IV at number four, today we take a look at the game that we've chosen for the number three spot.

Number 3 – Halo Reach
A Halo game was always going to appear in our top five list, it was just a matter of choosing between Halo 3 and Halo Reach. Halo Reach marks a defining moment for Bungie signalling the final instalment of the Halo series as it moves on to concentrate on other projects. It brings together everything that the developer has learned from Halo's multiplayer experiences of the past to deliver a complete and robust online experience with tons of options for customisation, great game modes and a brilliant match-making system.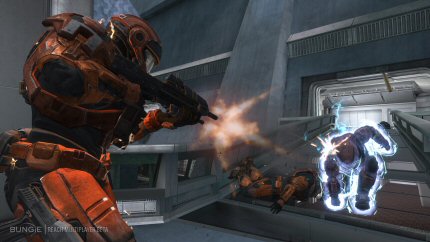 The single player campaign is pretty much typical Halo fare, but the addition of new vehicles, such as the Phantom and weapons, such as the DMR, alongside abilities like the 'Jet Pack' or 'Hologram,' puts even more strategy and variety at your fingertips than any previous Halo game. As for the ending, well...we found it quite emotional. Having enjoyed all the Halo games, specifically the multiplayer component, it was quite sad to see Bungie bow out and this particular era for Halo come to a close.

Stay tuned for the countdown to number one.