It's hard to believe that Xbox 360 launched five years ago this week. It doesn't seem a few weeks ago that we were unboxing our console and playing the likes of Perfect Dark Zero, Condemned and Gun. To celebrate the past five years, we've chosen our top five favourite games among the hundreds of titles for Microsoft's console. It hasn't been easy, but after a lot of debate, where the likes of Assassin's Creed Brotherhood, Bioshock and Fallout 3 narrowly lost out to The Orange Box for our fifth favourite game, our feature continues with a look at number four.

Number 4 – Grand Theft Auto IV.
Grand Theft Auto IV isn't the most perfect game you'll ever play, but its scale and ambition is something to behold. The atmosphere in the city and the attention to detail is unmatched, and exploring the vast metropolis, never knowing what's going to happen next, is what really makes it feel special and unique. Graphically, it looks fantastic, but what's more impressive is how the whole city is brought to life by its inhabitants. One minute, you can be walking down the street and witness a car-jacking, the next rain starts to pelt down from the heavens and pedestrians will put newspapers over their heads and dash for cover. No-one creates this vibrant city life like Rockstar does.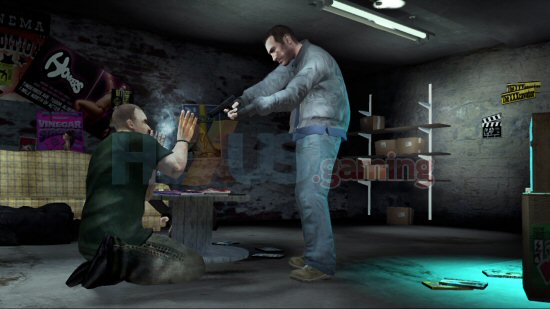 Click for larger image



The GTA experience is always an epic one and there aren't any other games that will offer you a gangster's playground as impressive as Liberty City. Futhermore, it's a game that you can tailor to your own needs. If you want to follow the main mission you'll enjoy a good deal of sex, drugs and wanton violence, as well as numerous driving missions, but alternatively you can choose dozens of different paths and go out on dates with your girlfriend, play mini-games, drive around the city exploring, or test the boundaries of the game's superb physics engine by causing as much carnage and destruction on the streets as you can manage.

Grand Theft Auto IV was the first game of the series for Xbox 360 and delivered a stunning sandbox environment.

Stay tuned for the countdown to number one.