Bob Crabtree sets the scene for the upcoming HEXUS.lifestyle review of MPIO's PD100, a digital music player that can pick up DAB and FM radio, record from both (and from its built-in mic and line-in socket) and handle MP3 files with style.
It's near impossible to name all available MP3 players, and only a little more practical if the shortlist includes only models with voice-recording. However, things start to get manageable if FM radio is added to the required features-set, and easier still if line-input is included, too.
Add DAB radio, though, and there's no problem at all drawing up a list. As best as we can make out, it would be a list of one. The sole entry would be MPIO's PD100 and, in truth, that's not actually available right now, it's due in a few weeks.
HEXUS.lifestyle has managed to get early hands on with a PD100 and first impressions are very favourable - starting with the appearance; silver and gunmetal grey with a backlit LCD information panel.
Size is about that of a packet of 20 cigarettes and weight a little over 100 grams, so the PD100 isn't ultra-small, nor ultra-lightweight. But what it is ultra-desirable.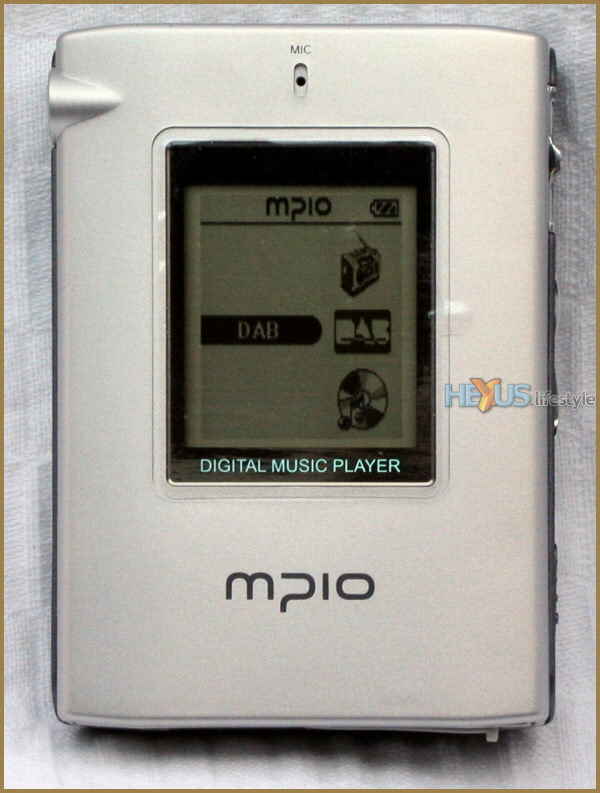 MPIO's PD100 crams a whole bunch of features into a package the size of 20 cigs
DAB radio, of course, is the headline grabber. If you've never heard DAB, you're missing out big time. The quality of the digital sound can be astonishing even on voice-radio. There's none of the hiss or other background noise found with analogue radio, and the MP100 can record DAB in MP2 format - retaining much of the quality, but taking up more storage space than MP3 would do.
But DAB is massively dependent on getting a decent signal - without it you hear nothing - so it's great that the PD100 can pick up FM radio as a fallback, and record that, too, as MP3.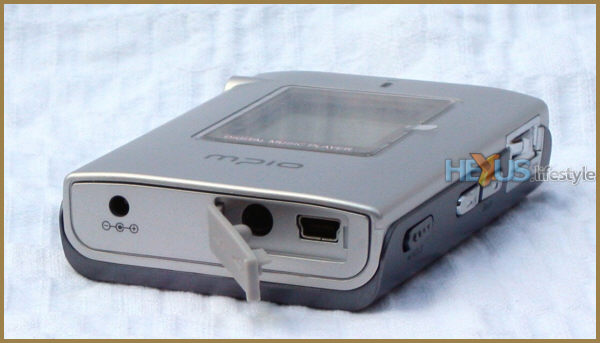 Sockets for power-in, line-in and USB are on the base, the last two covered by a flap
MPIO's baby works fine as dictation machine or note-taker. Voice-recording to MP3 sounded better with the PD100 than we get on most PCs paired with a decent headset/mic combo.
And having line-in recording is a massive bonus, from our viewpoint, anyway, since it let us easily convert some favourite LPs into MP3s. All that's involved is connecting the PD100 to a hi-fi system's headphone socket using the supplied double-ended 3.5mm stereo lead. Our hi-fi, though, had a quarter-inch headphone socket, so we had to dig in our diddy-box to find a quarter-inch-to-3.5mm adaptor.
A lot of people would like to digitise their LPs and would find it far less hassle to do it this way than to getting their hi-fi systems mated to their PCs. Anyway, the quality of the MP3s that the PD100 creates is likely to be better than they'd get going the hi-fi-to-PC route.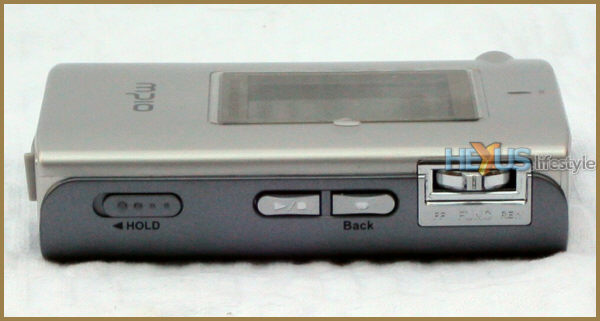 All the controls are on the PD100's right side, except volume which is on the top
Clearly, the PD100 has a lot going for it - so watch out for HEXUS.lifestyle's full review.