When a hefty package addressed from Antec landed at the HEXUS labs we expected to find a new chassis lurking within. We were wrong.
The California-based manufacturer of PC components, like so many others, is branching out and has turned its attention to speakers. And this doesn't appear to be a half-baked attempt at venturing into new territory. Instead of treading the water, Antec is diving into the deep end by ushering in a whole new subsidiary dubbed Soundscience.
The brand is said to be the result of "two years of evolving prototypes, constant fine-tuning, and hundreds of hours listening", and has resulted in the launch of Antec's first 2.1 PC speaker system; the Soundscience Rockus 3D.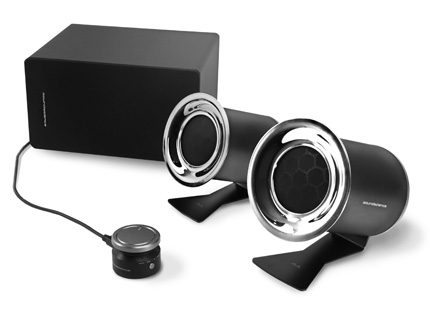 Pimp'd
Priced at around the £170 mark, Antec's Rockus 3D isn't targeting Joe Average. The ambitious stereo set comprises a pair of 25W satellite speakers, a 100W subwoofer and a cute-looking desktop remote control.
The 2.1 configuration manages to minimise cable clutter and at 351mm x 196mm x 270mm, the subwoofer doesn't eat up an overly-large chunk of under-the-desk real estate. What's more of a concern is the gaudy aesthetics of the satellites - each of which has been given a pimp-my-speaker makeover in the form of a plastic silver rim that detracts from an otherwise elegant design. It's an acquired taste, but we found the reflective rims to be off-putting.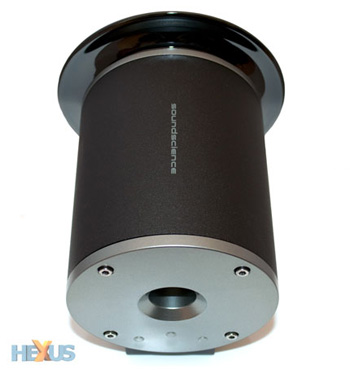 It's unfortunate, too, as the rest of the speaker - constructed from the anodised aluminium that Antec is only too familiar with - smartly encases the 2.5in driver, feels solid, and should help prevent the vibration that can plague lesser materials.
Bring on the bass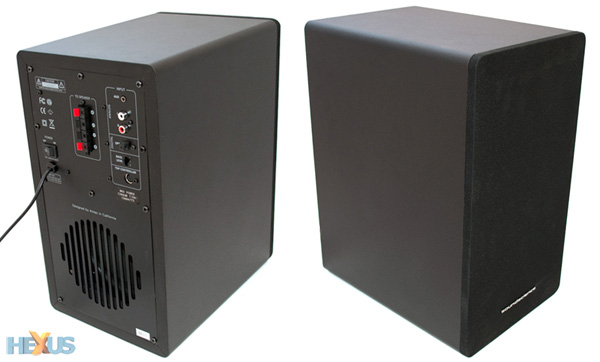 The subwoofer, a more basic affair, attempts to balance form and function by housing a 6.5in active driver, a 9in passive radiator, an amp and a power supply into a relatively-compact MDF cabinet. Antec claims the use of a passive radiator will deliver "an expansive range of bass" - down to as low as 10Hz, apparently - but the idea here is not to infringe on valuable desk space.
The rear of the unit provides connectors for the left and right satellites, a 3.5mm auxiliary input, stereo RCA inputs and an optical input. The latter is something of a rarity on PC speakers and makes it easy to connect the Rockus 3D to other sources - such as games consoles or DVD players. Unfortunately, an optical cable isn't provided in the bundle - instead, you get chunky-looking RCA-to-open-ended speaker cables, an RCA-to-3.5mm cable and a 3.5mm-to-3.5mm cable.
Rounding off the rear panel, Antec provides a dedicated power on/off switch, a three-preset Bass Level toggle switch and a connector for a wired desktop remote dubbed "the pod".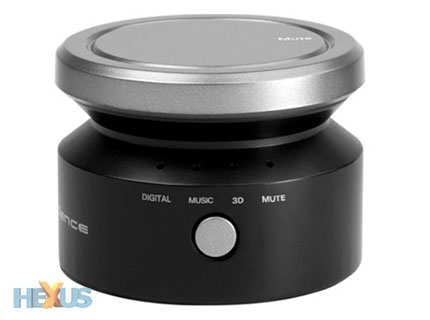 Aesthetically, the pod is the highlight of the system. Despite using a plastic body, the compact remote is well weighted and sits on a slip-free rubber base. The smooth silver top acts as a dial for volume control, and a firm press will mute the system. Holding down the single front-facing button lets you toggle between digital and analogue inputs, and tapping the button lets you flick between Antec's two available audio modes; music and 3D.
The former is said to "accurately reproduce stereo sound" the way it was meant to be heard, whilst the latter utilises Antec's 3Dsst sound processing algorithm to create a virtual surround sound experience. More on that later.
The overall design is visually pleasant enough, but perhaps not quite befitting of the £170 asking price. The inclusion of optical input and a desktop remote is welcome, but the system as a whole is missing a couple of key features - there's no headphone jack, and no means to fine-tune the level of bass or treble beyond Antec's presets.
Does it Rockus?
In use, the Rockus 3D can prove to be a delight in certain scenarios. Moving up from a sub-£100 set of speakers - in our case a pair of Logitech Z-10s - is a vast improvement, and the Antec solution provides far greater clarity and a good deal more punch.
Connected to our various sources using an optical cable, the 2.1 system sounds like a talented bit of kit at low-to-medium volume, but it isn't without faults. The satellites provide enough detail to let you pick up sounds you may never have heard before, but at the top-end they begin to come across as tinny. Crank the volume close to full-tilt and the audio output starts to show clear signs of distortion, at which point the highs become noticeably harsh and overpowering.
Fortunately, the speakers are suitably loud and we rarely felt the need to venture anywhere close to maximum output. At lower levels, there is a warming sense of bass on hand, but like so many 2.1 systems, the forward-firing subwoofer feels detached from the audio experience and ultimately struggles to overpower the sharp mid-range of the satellites - even at the highest of its three presets. It's unfortunate that Antec hasn't provided finer control over the system's output, and as a consequence, the audio doesn't feel as full or as well-rounded as it should.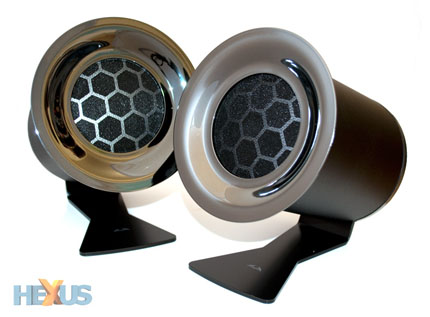 But what the Rockus 3D lacks in depth, it makes up in power. There's ample volume for mid-sized rooms, and when gaming or watching movies the combination of power and precision provides plenty of clout. Don't be fooled by the 3D audio mode, though. In its attempts to virtually widen the sound stage, the 3Dsst processing distorts and misconstrues the source audio to such an extent that the perceived surround-sound benefits become largely irrelevant.
In summary, Antec's Soundscience Rockus 3D is a valiant first effort that finds itself slotting into a niche area of the market. The combination of a compact subwoofer, a desktop remote and optical input makes it a versatile system, and the Rockus 3D audio experience is notably better than a standard sub-£100 set of PC speakers. Don't go in expecting Hi-Fi quality audio and you'll find plenty of ways to enjoy Antec's debut 2.1 system.
The Good
Optical input
Compact subwoofer
Convenient desktop remote
A significant step up from standard PC speakers
The Bad
Subwoofer struggles to deliver the required oomph
No headphone jack
Premium pricing
HEXUS Rating

Antec Soundscience Rockus 3D
HEXUS Where2Buy
The Antec Soundscience Rockus 3D 2.1 speaker system is available to purchase from Scan.co.uk*.
HEXUS Right2Reply
At HEXUS, we invite the companies whose products we test to comment on our articles. If any company representatives for the products reviewed choose to respond, we'll publish their commentary here verbatim.
*As always, UK-based HEXUS.community forum members will benefit from the SCAN2HEXUS Free Shipping initiative, which will save you a further few pounds plus also top-notch, priority customer service and technical support backed up by the SCANcare@HEXUS forum.