Introduction
The name PURE has become synonymous with DAB radios since its introduction in 2002, but whilst the British manufacturer has products tailored for almost every potential customer; its offerings for hardcore rockers are few and far between.
Fortunately for those who never tire of a Zeppelin riff, that's about to change with the introduction of the company's latest DAB and FM radio; the EVOKE-1S Marshall.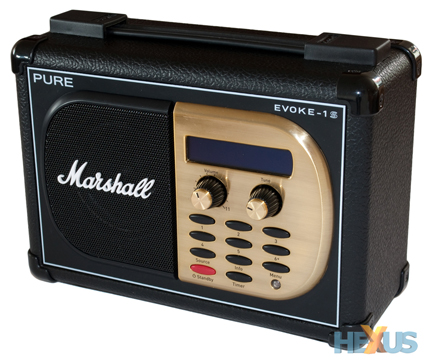 Priced at £120 and described as "the radio that rocks", the EVOKE-1S Marshall arrives as a successor to the 2006 EVOKE-1XT Marshall. The good news for Spinal Tap fans is that it still goes up to 11.
Not seeing what all the fuss is about? For the GAGA crowd, this here radio may look like the old EVOKE-1S in a new skin, but that's the idea. Designed to resemble the iconic Marshall amplifier, it's a kick-ass homage to a long-lost art form; hard rock.
In order to achieve the desired effect, PURE has housed the popular EVOKE-1S design in a Marshall wood cabinet finished with a black vinyl wrap, a brass-effect front and the iconic Marshall badge.
The end result looks triumphantly awesome, and the accompanying sound's not bad either. Armed with a 3in full-range speaker capable of 7W RMS output and a tuned bass port, the new Marshall surprises with clarity, volume and a small-but-satisfying serving of bass.
Sound is impressive for a unit that measures just 165mm x 220mm x 120mm, but it isn't perfect. Top-end highs can be lacking, there's no option to adjust treble or bass, and only a single mono speaker is fitted as standard - you need to purchase an optional, matching £35 S-1 Marshall speaker for full-on stereo enjoyment.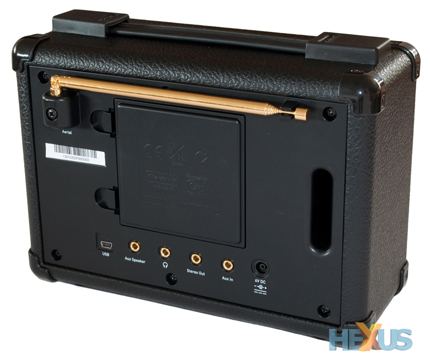 The optional stereo speaker connects to a gold-trimmed port to the rear of the unit, where you'll also find an auxiliary input that's useful for connecting an iPod/MP3 player, a stereo out jack, a headphone socket and a USB port that allows for firmware upgrades.
As with most PURE radios, a ChargePAK slot allows for portable usage through the purchase of an optional ChargePAK E1 battery. Available for an additional £30, the battery should provide up to 24 hours of on-the-go DAB use.
Everything you'd expect to see on a high-quality PURE radio, but - considering the £120 asking price - the EVOKE-1S Marshall is missing a number of high-end features.
PURE's live rewind and pause functionality, ReVu, isn't included, and you get none of the web-connected functionality available from the company's Flow line of products.
As a result, the £115 PURE EVOKE Flow and £130 PURE EVOKE-2S both offer a greater set of features at around the same price.