The Concept B 200 USB
Although technically a 2.0 solution, the Concept B 200 USB system does incorporate three individual components - two speakers and a dedicated external amplifier.
Teufel's amplifier, the CB 200 CS Control Station, pictured below, features a built-in soundcard that connects to a user's PC via a standard USB 2.0 interface. The advantage here, of course, is that the user can automatically bypass the foibles of third-party soundcards - many of which are usually the culprit for below-par PC audio.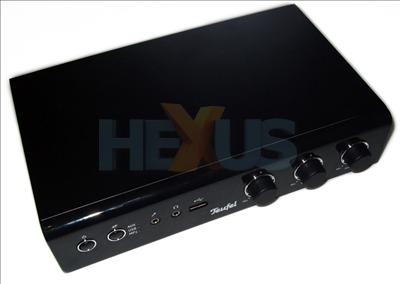 Measuring 250mm x 52mm x 170mm, it's a sizable unit that will take up a chunk of desktop real estate. Fortunately, the size is for the most part warranted as the Class D amplifier provides a total power output of 120W and a handful of other potentially useful PC-specific functions - including a built-in passive USB hub and connectivity options for multiple audio sources and gaming headsets.
Featuring a full-metal housing, the amplifier feels sturdy and well constructed - a feeling that's echoed by the unit's surprisingly heavy weight of 2kg.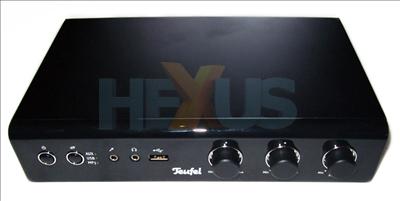 To the front of the unit, a plastic front-face - finished in glossy-black - houses all the essential controls and inputs. Teufel's two left-most buttons, power on and input select offer a pleasant click when pressed, and the three dials - volume, treble and bass - are all extremely smooth in operation, with a gentle notch to indicate when treble and bass are set to neutral.
A minor complaint, however, would be that it's impossible to tell how high the volume is set by just looking at the unit - we'd like to have seen a small indicator on the volume dial, to prevent having to return to minimum and work upward toward a desired volume.
Rounding off the front of the unit is a single USB port - useful for connecting common PC peripherals such as USB memory sticks - and headphone and microphone connectors, both of which are an essential feature for the headset-touting gaming crowd.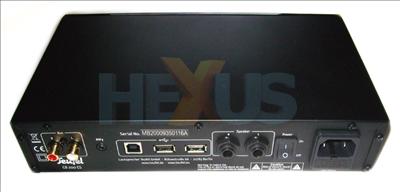 Over to the rear and there are stereo phono inputs for an auxiliary audio device, a 3.5mm input that's ideal for use with your portable MP3 player, and a further trio of USB ports - one of which features a B-Type socket for connecting to your PC. Unfortunately, Teufel doesn't bundle the required USB cable, a major oversight considering the small cost of the cable in relation to the speaker system itself, we reckon.
Also at the back are connectors for the left and right speakers, a dedicated power button, and a socket for Teufel's mains power lead.
That's the first part of the puzzle...