At the end of the Google I/O conference last week we got to learn more about what is happening with the, initially promising but seemingly slow to progress, Project Ara. What we saw was a sleeker, slicker system, as you can see in the video embedded below. Furthermore, Project Ara seems to have gained favour within Google and now has its own division. There's still a sizeable wait for consumers, we will have to wait until sometime next year to get hands on product. However, developers will get devices in autumn this year.
The old Project Ara smartphone prototype most frequently seen previously had seven module areas and quite distinct endoskeleton border areas, emphasising its modularity. Immediately it is easy to see this has changed with the new Project Ara. Six segments are available for your module swapping fun, and the modular dividers are there but less obvious.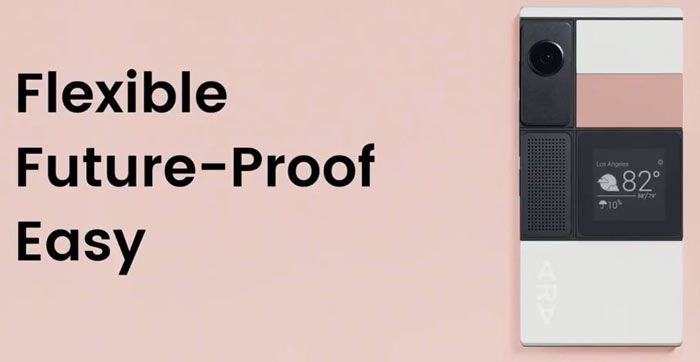 Getting into the hardware specs, the modular dis/connections use an electromagnetic latch mechanism. As the Verge reports, module swapping is now enhanced by the ability to eject modules with voice commands. Following your command, such as "Okay Google, eject the camera module", with the smartphone face down on the table, the camera module was observed to pop up with a little jump as it was released. No reboots are required thanks to new software in Android called 'Greybus' facilitating "instantaneous connections, power efficiency and data-transfer rates of up to 11.9Gbps"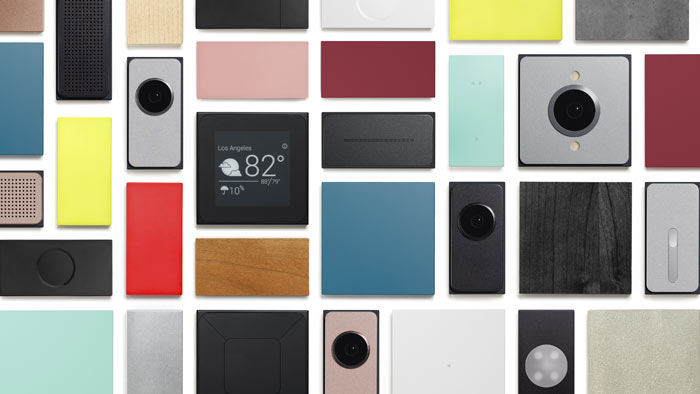 Many a smartphone enthusiast sings the praises of user swappable batteries and Ara takes that utility value further by providing hot-swap functionality. Apparently the 'endo' has a small amount of battery capacity which is enough to allow you to swap out a battery without a re-start. Perhaps Ara was already dual-battery capable but this is nevertheless a nice feature.
Further goodies, mainly in the way of modules, are spottable in the newly published "What's Next?" video - embedded above. There you can see modules showcased for; various camera duties, e-ink status displays, kick-stands, speakers, high quality recording, expandable storage and even blood glucose sensors. Tech heavyweights such as Samsung, Sony Pictures Home Entertainment, E-Ink, Toshiba, Harmon, iHealth and others are making Project Ara modules.

If there are any drawbacks to the new design it is that the SoC is no longer in a modular component but is part of the endoskeleton you buy. Previously we learnt that buyers would be able to at least choose between Nvidia and Marvell SoCs but now it looks like, if you do get a choice, it will be set when you buy the 'endo' or base frame of the device. Also within the 'endo' are a base set of antennas, sensors, the aforementioned small battery, with your display on the flipside.
As mentioned in the intro, Google is close to shipping devices to developers but consumers have the vague date of 'next year' to wait for, to get their hands on shipping product.