LG has released information about a couple of new smartphones which will make their debut at MWC 2016 next week. The new mobes herald the beginning of a new Series which are said to offer "one exceptional feature at a price that rivals mid-range smartphones". That's an interesting concept, and the first new smartphones in the X Series are the LG X cam and LG X screen.
Customers do not need or want to pay for a 'one size fits all' design thinks LG. Its first two mid-range priced phones with singular exceptional features seek to address this marketing issue with "a great camera or advanced display." That obviously refers to the LG X cam and LG X screen respectively. "At LG, we think there's room for devices that do one thing very well and that customers shouldn't have to pay for features that they don't want. At the end of the day, we're committed to offering consumers more choices," summed up Juno Cho, president and CEO of LG Mobile.
LG X cam
This photographic focussed smartphone sports dual rear cameras in its slim, light and curved body. It would have been interesting to know what the reasons for the dual-camera configuration are; it could be some sort of zoom facility or depth camera functionality. The key specs are as below:
Display: 5.2-inch FHD In-cell Touch
Chipset: 1.14GHz Octa-Core
Camera: Rear 13MP and 5MP / Front 8MP
Memory: 2GB RAM / 16GB ROM
Battery: 2,520mAh
Operating System: Android 6.0 Marshmallow
Size: 147.5 x 73.6 x 5.2mm~6.9mm
Network: LTE
Colours: Titan Silver / White / Gold / Pink Gold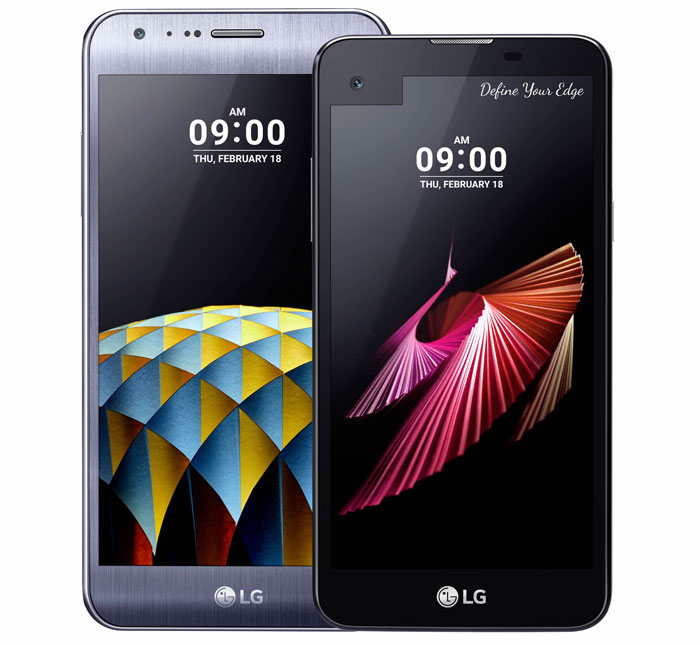 LG X screen
This smartphone offers the dual-screen functionality recently seen in LG's premium V10. A main 4.93-inch display is crowned by the 1.76-inch always on display which will appeal to smartphone addicts. The second screen is useful, not just for keeping you informed on every notification and status event but provides easy access to frequent apps and allows you to answer calls while the main screen remains on whatever activity you were using it for.
Display: Main 4.93-inch HD In-cell Touch, Secondary 1.76-inch LCD (520 x 80)
Chipset: 1.2GHz Quad-Core
Camera: Rear 13MP / Front 8MP
Memory: 2GB RAM / 16GB ROM
Battery: 2,300mAh
Operating System: Android 6.0 Marshmallow
Size: 142.6 x 71.8 x 7.1mm
Network: LTE
Colours: Black / White / Pink Gold
I like to have a good camera on my smartphone so will be keeping an eye on the LG X cam. With the cheap and powerful Chinese smartphones around these South Korean models will really have to step up their competitiveness and carve out unique appeal. The LG X Series will arrive in key markets in Asia, Europe and Latin America starting next month.