Legendary computer company Commodore has risen again, with an all new Commodore PET due to launch across Europe later this week. This new device is not very closely related to the original Commodore PET, launched back in 1977, it's not even a desktop computer – this is an Android smartphone.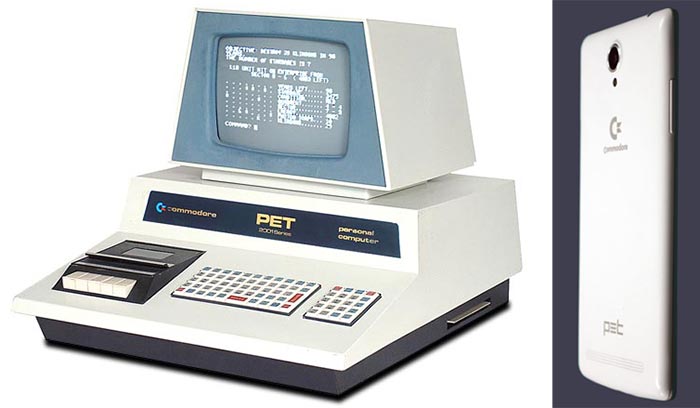 Old Commodore PET (left) and new the Commodore PET smartphone
Commodore was a leader in personal and home computers through the 80s and into the early 90s. It's most famous product, the Commodore 64, was reputedly the biggest selling computer ever with 17 million bought. It followed up that 8-bit computer with the 16-bit Amiga which also did extremely well. However the company hit the rocks in the early 90s, it was 'doomed' as powerful 3D accelerated PCs started to become more popular in the home environment.
Now Wired reports that the Commodore brand and trademark have been registered by a pair of Italian entrepreneurs; Massimo Canigiani and Carlo Scattolini. They've been working on and have now put together the Commodore PET smartphone. The Wired writer, Murizio Pesce, met with the new owners to talk about the product and give it a try. First impressions were that it "is an Android phone of rather common design," with a Commodore logo.
Commodore PET smartphone specifications
5.5-inch IPS 1920×1080 pixel screen, coated with Gorilla Glass 3
1.7 GHz Mediatek 64-bit octa-core processor
ARM Mali T760 GPU
Main camera has a 13MP Sony sensor with a bright f/2.0 aperture, dedicated shutter button
8MP selfie camera with 80 degree wide angle lens
Dual-SIM 4G connectivity
Aluminium frame construction with interchangeable polycarbonate covers in white, biscuit-beige, green, blue and other colours
3000mAh battery
There will be two models produced with the above specs in common but with differing amounts of memory. The $300 Light model will offer 16GB storage and 2GB RAM, a $365 regular model will offer 32GB storage and 3GB RAM. Both models come with a 32GB microSD card pre-installed and you can swap in your own, up to 64GB in capacity.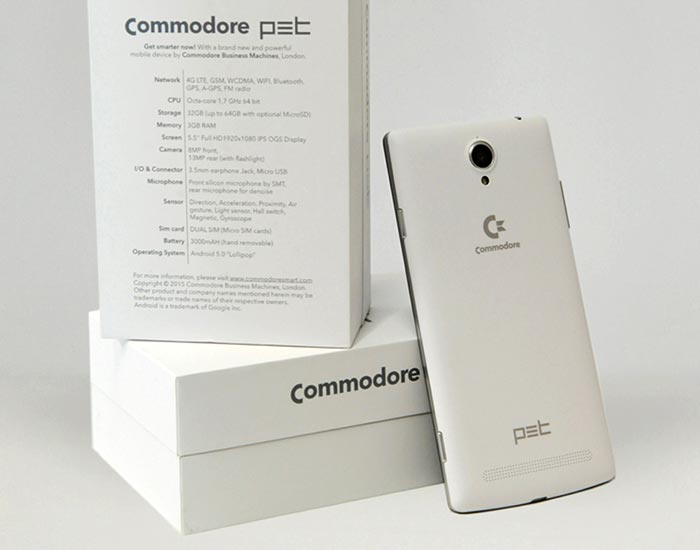 Special software sauce
As described thus far the Commodore PET smartphone is indeed very common. However the makers hope to inject enough differentiation, via software, to make it more attractive than the huge number of Android smartphone competitors out there. Wired were told that the Android 5.0 Lollipop system on the phones would be joined by a pair of pre-installed emulators. "Customized versions of the VICE C64 emulator and the Uae4All2-SDL Amiga emulator," will be installed on the shipping versions of the Commodore PET. Furthermore the new Commodore is working with some unnamed software houses to allow it to pre-install a number of classic games on the handset before it ships.
On the subject of availability, the Commodore PET will initially be made available this week in Italy, France, Germany, and Poland with plans to expand availability to other European countries and America in the near future.
Are any HEXUS retro computing fans interested in this all new Commodore PET, or are you still waiting for the Atari phone?