LG has launched the follow up flagship to its popular G3 smartphone. The new LG G4 seeks to bring design elegance, great visual capture and display and a human-centric user experience to users. The new smartphone is equipped with a 16MP main camera with f/1.8 lens, LG's 5.5-inch IPS Quantum Display and a Qualcomm Snapdragon 808 processor in a sleekly designed 'Slim Arc' exterior design. These features are combined with LG's 'Human-Centric UX' to make the smartphone simpler, more intuitive, yet better at matching the needs of each user.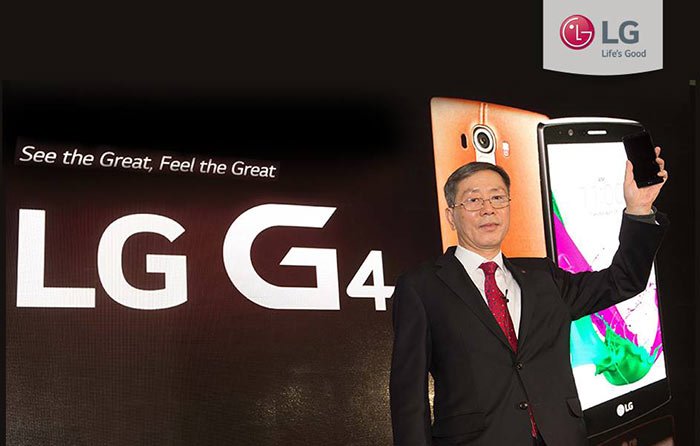 Juno Cho, president and CEO of the LG Electronics Mobile, said at the launch "we are living up to our promise of Innovation for a Better Life with a fashionable, premium smartphone that is more focused on delivering a balanced user experience that can compete with the best of the best". Cho added that the new G4 is a "truly human-centric device," and the most ambitious phone ever created by the firm.
LG G4 key specifications:
Chipset: Qualcomm Snapdragon 808 Processorwith X10 LTE
Display: 5.5-inch Quad HD IPS Quantum Display (2560 x 1440, 538ppi)
Memory: 32GB eMMC ROM, 3GB LPDDR3 RAM / microSD slot
Camera: Rear 16MP with F1.8 Aperture / OIS 2.0 / Front 8MP
Battery: 3,000mAh (removable)
Operating System: Android 5.1 Lollipop
Size: 148.9 x 76.1 x 6.3 - 9.8mm
Weight: 155g
Network: 4G / LTE / HSPA+ 21 Mbps (3G)
Connectivity: Wi-Fi 802.11 a, b, g, n, ac / Bluetooth 4.1LE / NFC / USB 2.0
Colours: [Ceramic] Metallic Gray / Ceramic White / Shiny Gold /
[Genuine Leather] Black / Brown / Red / Sky Blue / Beige / Yellow
Other: Manual Mode / Gesture Interval Shot / Quick Shot
Above you have the key specifications to peruse - but they don't give you the best idea about the G4 experience, such as its design, the camera capabilities and functionality, or the UX.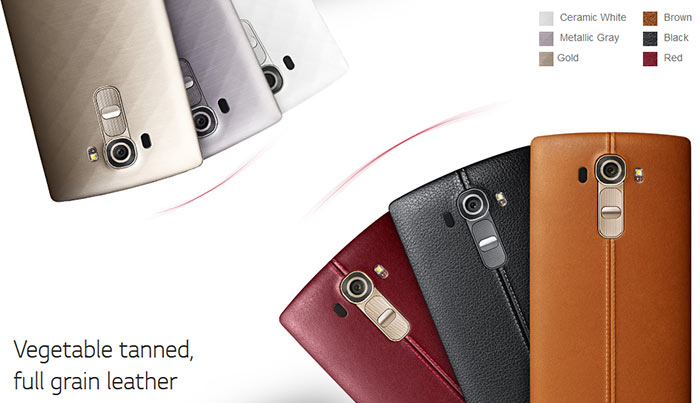 LG has put a lot of work and thought into the cameras built-into the G4. The new 16MP main camera's f/1.8 lens is said to "allow 80 per cent more light to reach the sensor," than that on the LG G3. Low light performance is improved further by OIS 2.0. A Colour Spectrum Sensor (CSS) in the device helps in colour accuracy in varying lighting scenarios and can work with the flash to "create images that are as close to what one would see with the naked eye". For selfies LG has installed an "industry-leading" 8MP front-facing camera. For convenience you can instigate the selfie capture/selfie series capture with a hand gesture.
The new LG inch IPS Quantum Display is a Quad HD display that is said to provide "20 percent greater colour reproduction, 25 percent improvement in brightness and 50 percent greater contrast". It uses Advanced In-Cell Touch (AIT) technology for slimness, more vivid colours and greater sensitivity. It is calibrated for DCI (Digital Cinema Initiatives) standards for colour expression.
Powering the LG G4 we have the "snappy yet energy-thrifty," Qualcomm Snapdragon 808 processor with X10 LTE. According to LG's own testing the LG G4, with its 3,000mAh removable battery, lasts 20 per cent longer than the LG G3 in the same use scenarios. As the LG G4 marked the debut of the 808 processor Qualcomm executives were present at the smartphone's launch ceremonies in Seoul and New York.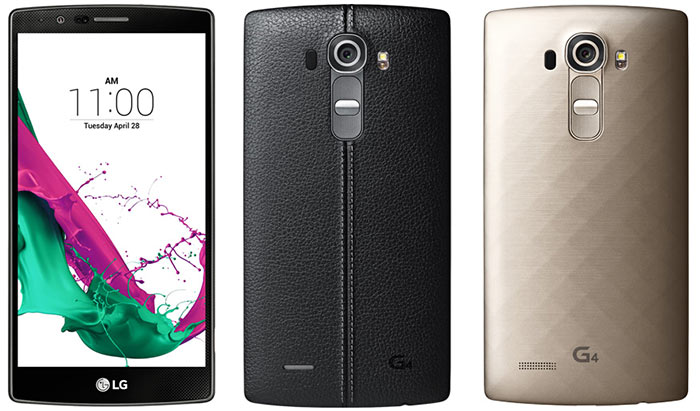 Finally LG makes the experience offered by the impressive hardware gel thanks to its new human-centric UX 4.0. As you can see in the spec listing, behind the UX sits Google's Android 5.1 Lollipop OS. The LG UX is said to be simpler for everyday use and eliminate unnecessary steps to do the things you want to do whilst providing more configuration options for advanced users. The UX 4.0 functionality covers tasks such as quick camera start-up from standby, a fast new gallery, a unified calendar, smart notice notifications stem and quick help system.
After its initial roll out, starting today in Korea, the LG G4 will begin to become available in world markets. Prices and carrier availability will be announced locally in each market. So we don't know the US/UK prices and availability schedule right now, for example. However Android Authority has compiled a list of US and UK carriers who have announced release exclusives and so on, for certain colours of the LG G4.