Android smartphone users often admire the Google Pixel range of devices for a number of qualities that set them apart from the pack. However, in recent generations the pricing of these devices has grown to astronomical levels, likely inspired by the success of acceptable price boundary pushing by the likes of Apple and Samsung. Unfortunately for Google, reports suggest that its Pixel smartphone premium pricing hasn't worked (low sales numbers), and thus it has readied a pair of 'mid-rangers', the Pixel 3a and 3a XL.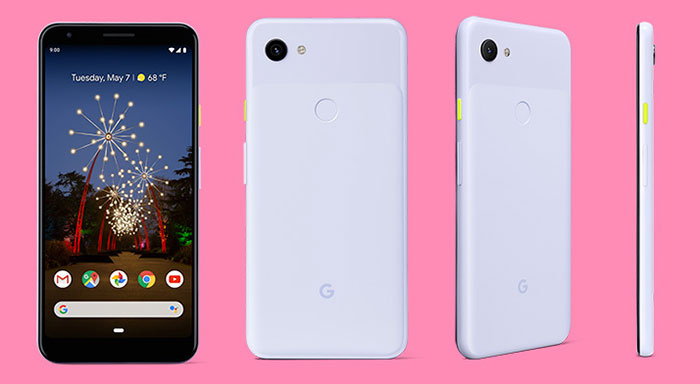 HEXUS first reported upon rumours of cheaper Pixel 3 smartphones back in November last year, just a few weeks after the official launch of the Pixel 3 and Pixel 3 XL phones. Details of the cheaper Pixel 3 variants solidified last month thanks to a Google Play Store leak - a leak from the first party source is always appreciated.
It is expected that the Google Pixel 3a and Pixel 3a XL will launch next week on Tuesday 7th May, the first day of the Google I/O developer conference. There won't so many surprises left thanks to the dual set of leaks in the last few hours. First of all there has been a leak of pricing, packaging and some specs via YouTube channel This is Tech Today, and secondly Droid Life has shared some details and professional looking promotional slides for the Pixel 3a phones.
What kinds of specs will the Pixel 3a and Pixel 3a XL offer? The newest information isn't a long way off what we saw last month and is as follows, according to Droid life: "The Pixel 3a will have a 5.6-inch display, while the Pixel 3a XL will have a 6.0-inch. They'll have 12.2MP Dual Pixel cameras, 4GB RAM, 64GB storage, 8MP front shooters, 3000mAh (3a) and 3700mAh (3a XL) batteries, squeezy Active Edge sensors, rear fingerprint readers, and Android 9.0 Pie."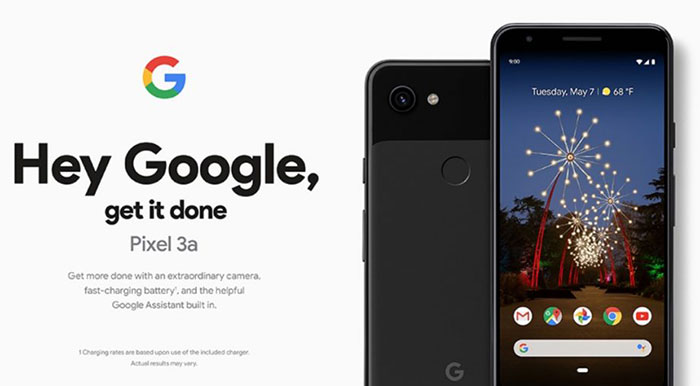 Other key specs not in that summary but from earlier leaks points to Google using the Snapdragon 670 and 710 chips for the Pixel 3a and Pixel 3a XL, respectively. The fast charging feature is worth a mention too, offering up to 7 hours use from a 15 minute charge time.
In recent generations the Google Pixel phones have gained a reputation for quality mobile photography. Budget conscious buyers might be thankful that these features seem to be carries though to the Pixel 3a line. The promo material shared by Droid life says that the new devices pack the "Pixel's extraordinary camera for all your moments" and include the much vaunted Night Sight for clear low light shots. Portrait mode, motion auto focus and unlimited Google Photos storage all feature too.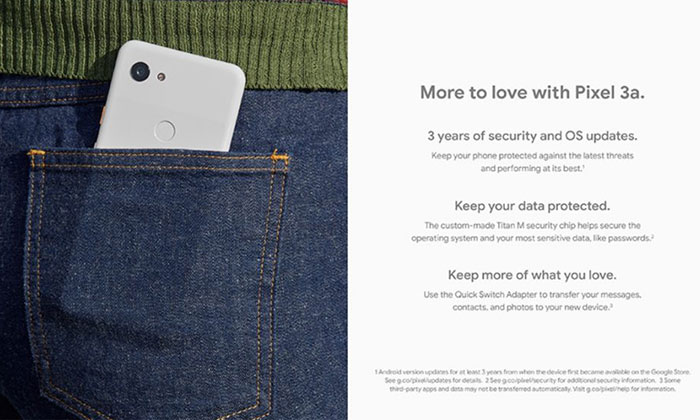 If you are interested in the Google Pixel 3a and 3a XL, they will be available in white, purple, and black, and in 64GB and 128GB variants. The 5.6-inch Pixel 3a and its 6-inch 3a XL will cost from $399 and $479 respectively (64GB versions). Those are quite keen prices considering the flagship Pixel 3 and Pixel 3 XL smartphones are priced from $799 and $899 respectively.