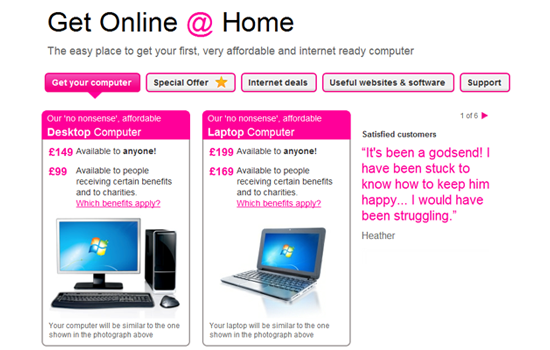 Go ON UK, a cross-sector partnership designed to bring the Internet to "every individual and every organisation in every community across the UK," has launched a new scheme offering millions of consumers the chance to purchase cut-price web-connected PCs.
The scheme, dubbed Get Online @ Home, is backed by Microsoft and TalkTalk and offers UK consumers the chance to pick up a "no nonsense" Windows 7 computer complete with TalkTalk broadband for as little as £159, with further discounts available to customers receiving benefits.
Get Online @ Home has been offering affordable computers for some time, but the organisation hopes that the addition of a year's broadband will encourage a greater number of Britons to take their first steps in getting online.
At the heart of the scheme, a discounted £159 bundle offers a refurbished Windows 7 desktop PC with a 15in monitor and keyboard and mouse, along with a 12-month TalkTalk broadband package that provides a monthly usage allowance of 40GB and a phone line with free evening and weekend calls to UK landlines. A £50 welcome credit is included to cover any TalkTalk setup costs, but line rental remains chargeable at £14.50 per month.