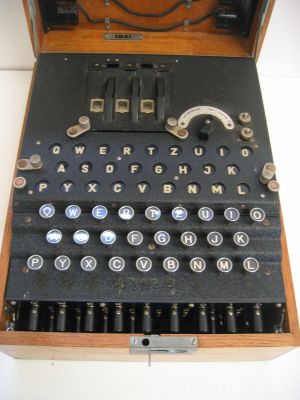 Enigimatically on sale on ebay




ebay has been used to sell some remarkable items but, amazingly, there's a

live auction

right now for a German WWII Enigma cipher machine. With under three hours left to go, bidding stands at EUR 40,150. That's about about £28,000 or a little over US$48,500.



Here's how the machine is described by its seller:



3-Rotors German ENIGMA Cipher Machine

Fine example of a WW II Enigma cipher machine in a very good condition and a great history; full functional. Year of construction 1941 by Manufacturer Chiffriermaschinen Gesellschaft Heimsoeth and Rinke, Berlin. The Enigma machine is placed in an oak woodwork case. Three high-quality, all-metal, matched rotors and an Umkehrwalze "B". The rotors are continuous numbered; serial numbers has been removed. There are two spare rotors in an additional small wooden box. Plug board is lettered QWERTZU…, wheels numbered 1-26. 100% Original!!! No Copy!!



What's so amazing - to us at any rate - is that something with such great historical interest would be sold on ebay and not, seemingly, be subject to any restrictions that would ensure it ends up with a museum or somewhere else where the public would be guaranteed access.

But, since the machine is being auctioned, you may wish to place a bid - noting that the seller says, 'Placing a bid is binding! So called "Funbidders" will be reported to our lawyer!'

Comment, if you fancy, over in the HEXUS.community (no coded messages, please!).



Update



The machine was sold - for 55,050 Euros. That's about £34,500.