As part of the Serious Organised Crime Agency's (SOCA) ongoing plans to crackdown on piracy, popular UK music download website RnBXclusive.com has been shutdown and users have been warned that they could face up to 10 years in prison for downloading illegal files.

In a chilling message left on the website yesterday, SOCA states that the music available for download on the site was stolen from artists and that it may track user IPs and inform Internet providers of the infringements.

The owners of the site, who are based in Leicestershire, have been arrested and could face serious time in jail due to copyright infringement.

"

As a result of illegal downloads young, emerging artists may have had their careers damaged. If you have illegally downloaded music you will have damaged the future of the music industry

," reads part of the SOCA message.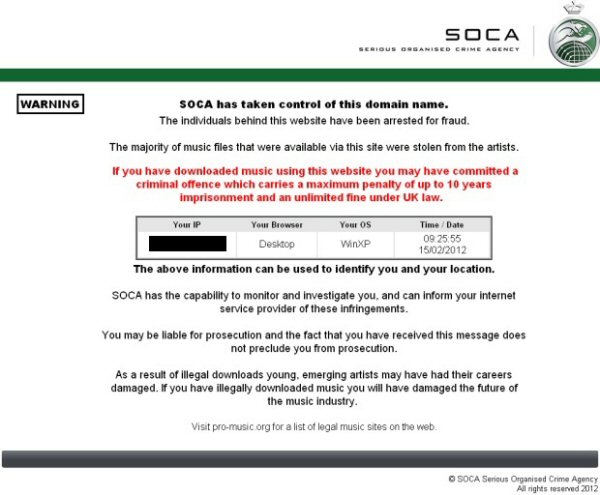 Campaigners from the Open Rights Group, who work to preserve freedoms by campaigning on digital rights issues, have requested a meeting with SOCA.

"

Any attempt to crowbar copyright infringement into areas of law subject to much harsher punishments raises serious problems. Threatening internet users with 10 years in jail strikes one immediately as inappropriate at best,

" says long-term campaigner, Peter Bradwell.

The shutting down of RnBXclusive follows the high-profile case of file-sharing site Megaupload. The Megaupload domain name was seized and the site shut down by the U.S. Justice Department following the indictment and arrests of the owners for allegedly operating as an organisation dedicated to copyright infringement.

Twitter users reacting to the closure of RnBXclusive.com appear to be either angry or scared by SOCA's no-nonsense message to users.

"

Look at this fascist nonsense: Grow up!

" reads one Tweet "

Whooo, I'm scared

" reads another.

SOCA's aggressive statement has now been removed from the RnBXclusive website.