Xobni, the San Francisco-based company known for providing an efficiently fast way to manage your contacts in Microsoft Outlook, is rolling out its service to users of Gmail and Android devices.

Dubbed Smatr Inbox for Gmail, and Smartr Contact for Android, the email management system has hit public beta this week and users with Safari, Firefox and Chrome browsers can download the product now from the Xobni website.



Smartr Inbox reveals itself in the sidebar of your Gmail account and allows you to link your Facebook, Twitter and LinkedIn accounts and merge all your contacts into one place. Contacts come complete with full profiles, including pictures, past conversations and full relationship history across the social media networks. It takes a little while to load when you first log into your Gmail account, but the predictive search function is extremely fast, and it's laid out nicely so you can navigate through the various tabs quickly and intuitively. You can even view Twitter updates in the right-hand panel.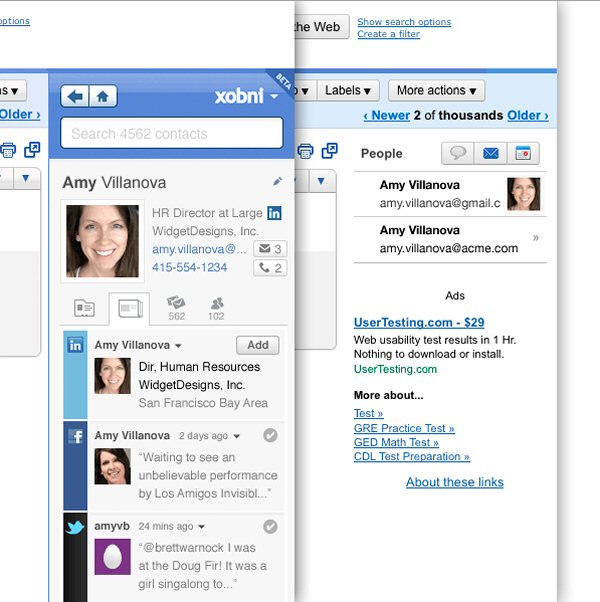 Smartr Contacts is a free app for Android that is also available to download from immediate effect from the Android marketplace. Though we've only used it for the last couple of days, it does appear to be an excellent solution to contact management and one that is far more visually attractive and quicker to use than the standard, monochrome contact lists of many Android devices. With Smartr Contacts you can index phone logs and SMS messages, view calendar events and can synch multiple email accounts and social media networks. The home screen widget also allows you to keep an eye on your messages in real-time.

Smartr Contacts is also in private beta for iPhone and is expected to hit the Apple app store in Q4.