Celebrity Cruises has announced that it will extend Apple's retail presence to the seas with the introduction of an iLounge on its upcoming ship, Celebrity Eclipse.
Scheduled to set sail from Southampton in April, Celebrity Eclipse - the company's third from the Solstice Class fleet - will feature a "Celebrity iLounge" described as a "hip, modern" Internet cafe.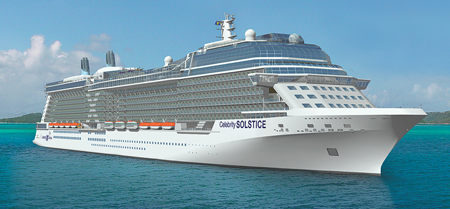 Featuring 26 MacBook Pros, the iLounge will allow guests the ability to surf the web, check email and print boarding passes whilst out at sea. Replicating the Apple Store experience, the iLounge - an authorised Apple reseller - will also feature staff that offer tips on Mac or iPod usage, and a retail space through which holiday-goers can see and purchase the latest Apple products.
Although Apple's genius bar won't be a component of the iLounge, Celebrity has announced that it will host a series of courses designed to teach guests how to use popular Mac software suites such as iLife, with a 56in TV delivering guides on creating photo books, websites and edited movies. Celebrity's certified staff "will be poised to illustrate to guests the differences between Macs and PCs," said the company in a statement.
Celebrity Cruises already has a long-running relationship with Apple, and currently uses Mac systems to power the in-room entertainment systems found in many of its staterooms.
The iLounge will be located on the sixth deck of Celebrity Eclipse. The ship is currently being completed at Papenburg, Germany, and is expected to house close to 3,000 passengers on its maiden voyage on April 29th. The Celebrity iLounge will also feature on future Celebrity ships, including the Celebrity Silhouette in 2011 and a fifth Solstice Class ship in 2012.