Transport Secretary Lord Adonis has confirmed that it is compulsory for UK airport passengers to undergo full-body scans before boarding flights.
The new rules, introduced following a failed attempt to blow up Detroit-bound Northwest Airlines 253 on Christmas Day, come despite the government's Equality and Human Rights Commission suggesting that the scanners breach the privacy rights of passengers.
Although only a random selection of passengers will be subjected to the scan, Lord Adonis states that "if a passenger if selected for scanning, and declines, they will not be permitted to fly".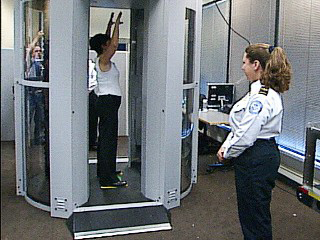 Unlike US airports, selected passengers will not have the option of a pat-down search. The news is likely to further anger human rights activists who have described the scanners - which take 3D images of a passenger's body - as a breach of privacy, with some calling it a "strip search".
Full-body scanners have been in use at Manchester Airport Terminal 2 since October 2009, and security officials expect scanners to be in place at the airport's other terminals by the end of February. Scanners at Heathrow airport are expected to be introduced this week, with Birmingham Airport following suit later this month.
The scanners - which help detect dangerous items such as guns or explosives underneath a persons clothes - are being trialled with a number of different technologies. One of the popular scanners makes use of millimetre wave technology, in which high-frequency radio waves are bounced off the human body to create a three-dimensional image of the person.
Manchester Airport's head of customer experience, Sarah Barrett, has commented on the scanners by stating they "will enhance security for everyone, which can only be a good thing, without compromising people's privacy."
Hoping to put privacy concerns to rest, the Department for Transport has also put together a preliminary code of conduct for airports using the scanners. The code of conduct insists that the staff assisting the passenger through the scanner should never see the resulting image. Similarly, the staff viewing the image should be based in a secure room away from the passenger, and the image can not be saved or printed.