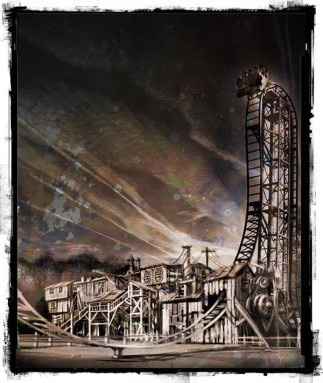 It isn't easy to build a new roller coaster without being noticed, and Thorpe Park's 2009 thrill ride has been subject to speculation for the past few months.
The ride, known previously by codename "Project Dylan", has today been unveiled as "SAW - The Ride" and promises to open in Spring 2009.
It'll be based on the horror-movie franchise and promises to be the "scariest ride in the world", courtesy of a beyond-vertical drop of 100º from a height of 100 feet. That, says Thorpe Park, is the steepest free-fall drop in the world and adding to the terror will be a theme based around an old sawmill.
If you're thinking it's just a bigger version of Alton Towers' Nemesis, don't be fooled, SAW - The Ride also has three inversions including a Zero-G Roll, an Immelmann Loop, a Dive Loop, as well as a supposedly-terrifying indoor section.
The ride is manufactured by Germany's Gerstlauer and British designer John Wardley is involved in development. It's placed next to Colossus and Samurai, but many have already voiced concerns over the ride's theme by questioning whether or not a violent horror-themed ride is suited to a family theme park. It's likely to come under criticism when it opens, but we're looking forward to riding this one.
Official ride website: SawTheRide.com