If you feel as though you're stuck in a rut and were wondering what it's like to fly off to report for HEXUS on shows overseas, take our advice and count your blessings.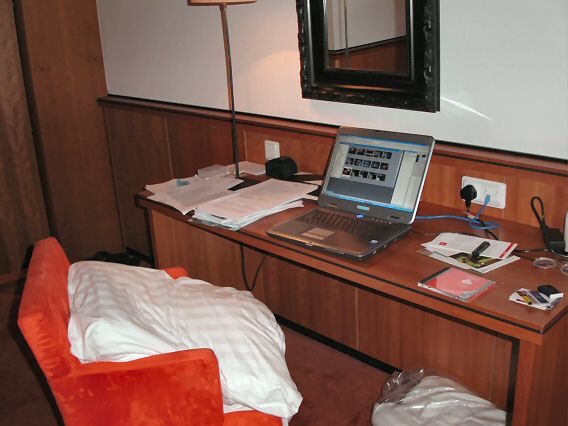 This shot shows where our first few reports from IBC were written – and where the rest are likely to be produced. It's at a hotel-room desk that's too high for any of the chairs (even with two plump bed pillows wedged in) - something that compounds the agony of being on your feet all day.

It was taken at around 4am but don't go thinking we'd returned late from a trip to a coffee house. Know that we had to get some words up on the site asap having been waiting over 14 hours for a working internet connection in our hotel.

Oh, and this was our third room. The first hadn't been cleaned, so we rejected it, and the second (also with no suitable chair) had a wireless connection that broke once we accepted the hotspot provider's security suggestions.

The third room, our current home, is more suited to how we expect to be when the show's over - it's specially laid out for wheelchair users and was the only one available to us.

The notebook you see is an Intel Centrino 750 powered MESH Dynamo Plus CBX with NVIDIA GeForce Go 6600 graphics, which has been kindly provided to HEXUS (and at an eleventh hour, drop of a hat!) by MESH Computers.

MESH is one of the UK's last remaining big system builders, and which seems to ride on a reputation of having recived more important UK editorial endorsements than any of its competitors.

During a recent visit to its headquarters, MESH seemed to aim to present HEXUS with the impression that, by proving its focus on after-sales service, it's increasingly committed to delivering a reputation for customer satisfaction; we'll be reporting more on this shortly.

Furthermore, as we're putting this little mobile powerhouse through it's paces in a real world environment, look out for our field report as to whether it makes the grade.