I'm sure no one is looking forward to returning to work after the Christmas break, in fact I'm a bit sorry for mentioning the idea already, on Boxing Day. However, thanks to IT and robotics developments, less and less people will have to endure the stress and the cost of the daily commute in the future. Remote working is already a growing trend, with a growing number of employees sometimes working at home and also being connected while out and about via their cellular connections. Still, many remote workers reportedly miss, and are missed, as a "presence" at work. This is where robotics comes into play.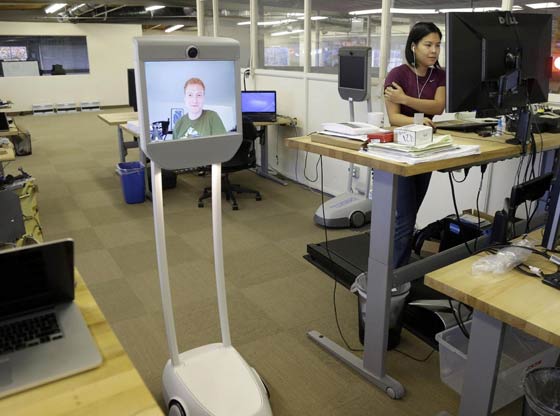 I robot?
The Economic Times (ET) reports that telepresence robots "are still a long way from going mainstream" but it is a growing industry with about a dozen competitors. According to analysts the industry has got a great future; projected to be worth $13 billion by 2017. The ET looks at one of the players in this new industry: Suitable Technologies, based in Palo Alto, California. This company makes a telepresence robot call the Beam.
Suitable Technologies uses its own Beam telepresence robots in-house. "Engineer Dallas Goecker (based 3,700 miles away in Indiana) attends meetings, jokes with colleagues and roams the office building just like other employees at his company in Silicon Valley," reports the ET. Another employee, software engineer Josh Faust, beams in daily from Hawaii, where he moved to surf! On any given day "up to half of its 25 employees 'beam' into work, with employees on Beams sitting next to their flesh-and-blood colleagues and even joining them for lunch in the cafeteria" at Suitable Technologies' Palo Alto offices. The Beam telepresence robot has "video cameras, speakers, microphones and wheels that allow users to see, hear, talk and 'walk' in faraway locations".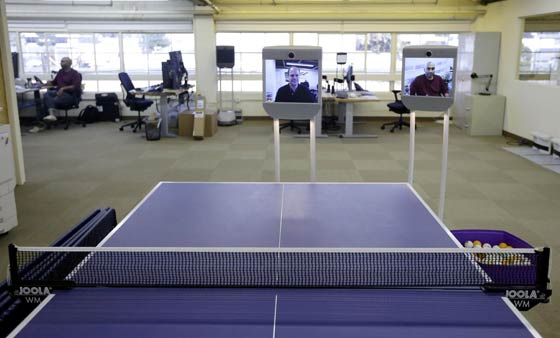 Fancy a game?

Suitable Technologies highlight the main benefits of the Beam telepresence robot as:
Ability to move freely about an office environment at speeds up to 1.5 m/s
The day long battery and docking station means you can get about all day and park up at night and don't need to inconvenience folk who actually came into the office
Two wide angle HD cameras give you "peripheral vision comparable to a person"
Six microphones and noise cancellation give you audio awareness and focus
Human size – the robot is about 1.5m tall, judged to be the best compromise to interact with both sitting and standing humans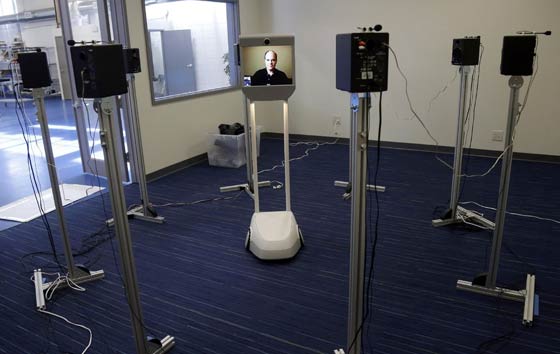 Beam robots aren't defeated by tin foil like Daleks but are equally vulnerable to staircases. Beam remote presence systems start at $16,000 (quite a lot more than a Botiful Android powered telepresence robot). How much does your daily commute cost in time and money during a year?