NXP Semiconductors, formerly a division of Philips Electronics, has unveiled the BGU8006 low-noise amplifier (LNA). The company claims this is the smallest available LNA on the market today which will save 38 per cent on the GPS PCB space compared to competitor products.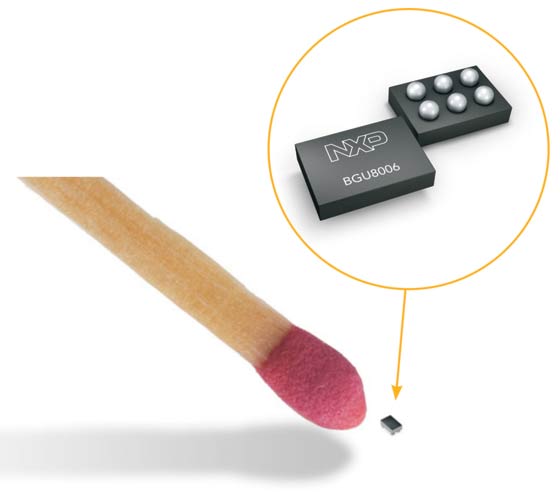 The extraordinarily tiny BGU8006 has a size of just 0.65x0.44x0.2 millimetres. You can see the LNA in the picture above, in danger of being crushed by a match-head. Erick Olsen, marketing director at NXP said "Smartphones, tablets, personal navigation devices and automotive telematics applications all suffer from communication delays when network reception is poor, and have to wait for data to refresh as the GPS searches for satellite signal. Our new BGU8006 LNA helps to maintain optimal GPS signal reception for as long as possible – on a chip that is so small, it isn't even visible to the naked eye."
The BGU8006 is designed to fit in to modern smart connected devices that house other wireless devices within a small case area. NXP says the BCU8006 has an extremely low noise figure of 0.60 dB. The device can improve GPS signal reception by dynamically suppressing strong cellular, Bluetooth and Wi-Fi signal interference. Mr Olsen said that GPS time to first fix is improved using this new LNA. "As GPS functionality becomes ubiquitous, the ability to deliver better accuracy and faster Time to First Fix will vastly improve user experience and enable operators to provide more sophisticated Location Based Services down the line."
The new LNA is ideal for space constrained applications such as in all our favourite gadgets and offers optimised "package size, cost and thermal characteristics". Smaller, cheaper, lower power consumption, cooler, better reception and faster time to first fix – what more do you want from your next GPS LNA?