You'd think that an eco-friendly petrol-saving car like Toyota's Prius would market itself to today's cash-strapped consumers, but, if ever there was a way to raise awareness, this is it.
In order to spread the green message prior to the 2010 launch of its refreshed Prius, Toyota opted to erect Solar Flowers in Boston's Prudential Plaza.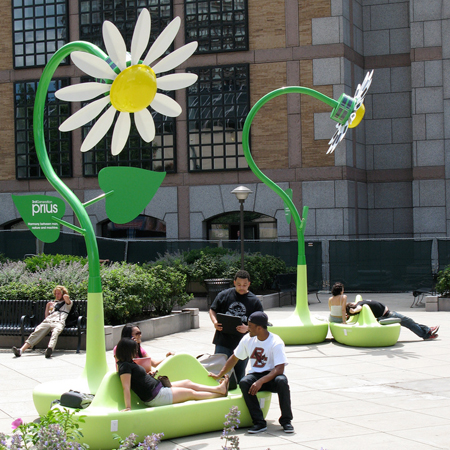 We reckon they look like a whole lotta fun, but they're actually serving a purpose, too. The 18-foot tall structures feature solar panels on the back of the petals and at the base of the stems, and those - combined with regular electricity - allow passers by to plug-in and charge mobile devices such as phones and notebooks.
There's seating for up to 10 people, so you may also want to sit down and take advantage of the free Wi-Fi that's on offer. Unfortunately, if you're in Boston and just reading about this now, we're afraid you've missed out. Toyota's Solar Flower campaign moved on last week, and it's now heading on tour to New York, Chicago, Seattle, San Francisco and Los Angeles.
No mention of Solar Flowers heading to the UK, but judging by today's forecast, the idea would be a wash out.