Microsoft has brought its newest gadget to Seattle music festival, stirring up a unique dance experience. It's a tech art object measuring four-foot square with custom acrylic screens, aptly named the Cube.
The company's latest art installation encourages real-life interaction, and is powered by five computers, five projectors and four Kinect sensors. It was unveiled this week at the Decibel Festival, bringing festival goers a "one-of-a-kind digital dance party" as the Cube worked it's magic and captured the movement and shapes of those dancing in front of the screens.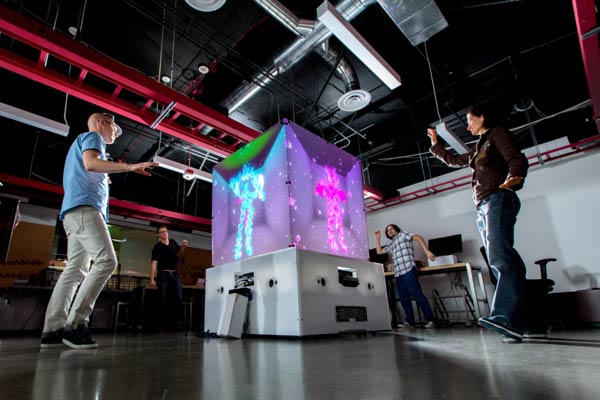 The Kinect sensors can register up to three people on each side. The Cube will also act as a portal, allowing people to interact with virtual objects and others standing on the other side even though they are separated in physical space. It is described as a project which exists in the "intersection of art and technology" by Michael Megalli, senior director of brand strategy at Microsoft. Megalli claims that the project reflects Redmond's creative culture.
Microsoft also described the Cube as the fruit of efforts to encourage employees to experiment with projects outside their usual sphere of activity and to create a culture of prototyping and collaboration at the company.
"It's about evolutionary innovation versus revolutionary innovation," Rick Barraza, senior technical evangelist at Microsoft, explained. "We won't reach that next level until we encourage creativity. The Cube is part of that. We're saying to agencies, 'Here is our product. Here is our software stack. It's open to you to play with.'"
Microsoft told us that the Cube took many months to create and that it eventually hopes to make an even bigger Cube, or perhaps several Cubes that can communicate with each other. "It could be a stage for performance, a blackboard for education, a display case for museum artifacts," wrote Michael Megalli, senior director of brand strategy at Microsoft, in a blog post. "It could be a communications device to bring people together in unexpected ways."
For those just who will be in Seattle in the next couple of days, the installation will be on show until Sunday, 28 September. It is located in the Seattle Centre between the Trimpin sculpture and Sky Church.