Owners of Sky+ and SkyHD PVR boxes can now set up remote timed recordings by mobile phone - and a web-based option from PCs is promised a little later in summer.



The Sky+ Remote Record service works with ordinary mobiles, acting on short text message sent to a special number. Users of fancier phones with mobile internet capabilities (2.5G, 3G or GPRS - including some BlackBerry models) can do the same or they can download an application - Sky by mobile 1 - that makes the whole business interactive.

The application brings up Sky's seven-day TV guide on the phone. The on-phone guide is similar to the one viewers use every day on their TV sets, making it easy to browse listings and view programme details while out and about - and then choose what to have recorded back home.

Sky says that there is no charge to use this part of the service other than the phone operator's data charge for using 2.5G, 3G or GPRS services. Although Sky's announcement doesn't say so, the company has confirmed that there is no charge for sending recording requests to the Sky+ boxes. It also told HEXUS that the web-based PC service is completely free.




To use the remote-recording service requires an active Sky+ subscription. Free registration is required so that your details can be linked to a particular Sky+ box. Up to eight mobiles can be registered on one box but each phone can only be registered on a single box.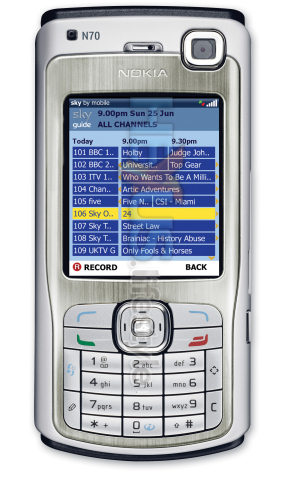 Click for larger image




There are different ways to register - one for each of the three remote-recording services.



Press 'Interactive' on your Sky+ remote, select Sky Active and then go to My Sky. Select Remote Record and you'll be directed to the Remote Record registration page. Fill out the details that link your mobile phone with your Sky+ box (up to eight phones can be registered per box).

Recording-request text messages are sent to Sky's remote record number - 61759 - and take this a format:

The Simpsons. Sky 1. 11/06. 18:30

.

Sky automatically searches the TV listings when it receives a request and, if a match is found, sends a message to the customers Sky+ box. The customer's mobile is then sent a text confirming the recording request. This costs 25p and is said to be the only text that Sky itself will charge for.





* Sky by mobile (2.5G, 3G or GPRS) registration

If you subscribe to Sky Sports 1 and 2 and / or Sky Movies 1 and 2 or you are a Sky Bet customer, registration is a two-step process. First register for Sky by mobile, so you can view the Sky TV guide on your mobile phone. Then register your mobile for Remote Record on Sky Active, as above.

Registering for Sky by mobile requires:

+ A compatible handset with internet access via 2.5G, 3G or GPRS

+ A Sky subscription - that might be Sky Sports 1 & 2 and or Sky Movies 1 & 2. Sky Bet customers are also eligible

+ A Sky digital account - needed to download the Sky by mobile app. Up to seven additional users in the household can download the app


Go to the

Sky mobile site

. Sky says that the site explain what you need to do but not precisely what that entails.




*

Online remote recording registration

First register for the service on Sky Active as above. Then visit

sky.com

to set recordings using the online TV guide





Remote record and BlackBerry

Sky says that BlackBerry owners can send recording request by text or with the Sky by mobile application. The text version of Remote Record is said to work with all SMS-enabled BlackBerry devices even if telephony is not enabled through the e-mail / SMS interface. If the BlackBerry is not being used as a mobile phone, you can check the number assigned to it by entering *#100# and pressing send.

Registration for Sky Active is required and downloading of the Sky by mobile app if wanting to use the on-screen TV guide. BlackBerry models currently supported by the Sky by mobile app are the 7100v, 7100x, 7230, 7730, 7290 and 8700.



In case you were wondering, the remote service offers no way of remotely cancelling a remote-recording request - this has to be done on the Sky+ box itself.

Seems like a rather nice feature for Sky to be offering to its SD and HD PVR subscribers. But are there catches we've not considered? Share your thoughts in the HEXUS.community.



HEXUS.links



HEXUS.community - discussion thread about this article
Sky mobile - home page
Sky - home page