Sonos reckons that no music lover's digital home is complete without the company's Digital Music System. What it doesn't say, though, is that you'll need to be sharing your digital home with one or more other music lovers to really appreciate it and be holding regular parties if you want to make an attempt to justify the expense.

But, recognising that not everyone can afford its kit, Sonos has just come up with a lower-cost ZonePlayer. The ZP80, £269 (inc VAT), doesn't include the amplifier of its more costly big brother (the £379 ZP100), so you don't have to pay extra for an amp that you might not need - Sonos says that a large number of potential customers will already have pretty decent amps anyway.

The beauty of the Sonos solution is that connecting one of the units to your PC, Mac or Network Attached Storage box lets you take advantage of the music stored there. The box also gives access to internet radio - it comes loaded with 190 internet-radio station presets.

Music is seamlessly streamed by wireless around the home, using Sonos's own wireless network technology – SonosNet. This is a secure AES-encrypted mesh network and allows ZonePlayers to play music from your music library in any room. That can be the same track all over the house or different tracks in different rooms.

Sonos claims that the kit is easy to set up, being just a matter of plugging in the first unit and then connecting others to the network at the press of a button. Oh, and if your digital home stretches to 32 rooms you'll be pleased to hear that you can have a different Sonos player playing a different track in each room. Bach in the bathroom, The Killers in the kitchen, whatever takes your fancy in the bedroom…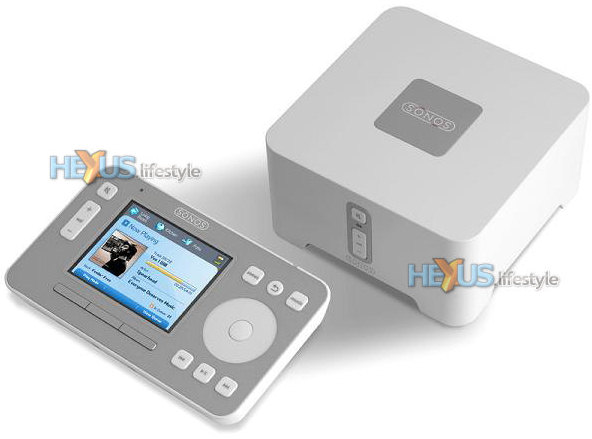 And you aren't just limited to the music stored on your PC's library or available via internet radio. It's possible to connect other music sources to any ZonePlayer and have the music from that device digitally encoded and made available to be played around the house. That source could be an iPod (or other MP3 player), a CD player, a radio or a hi-fi system.

Each ZonePlayer has a two-port switch for wired Ethernet connection. According to Sonos, some customers use this so that they can plug a laptop in and take advantage of the network, though it's really provided for easy internet radio access as well as, we'd imagine, to get around any local difficulties there might be with wireless transmissions.

Sonos offers a wireless controller with a 3.5-inch full-colour screen and an iPod-style click wheel to make navigation of the music library simple. This can be used to control the playlist in any room in the house but price is a pretty scary £319, so this is one handset you'll want to make sure that you don't misplace or let the dog get at!

The Sonos hardware supports most audio formats - MP3, WMA, AAC, Ogg, Vorbis, Apple Lossless, WAV and AIFF - but none that uses digital-rights manangement for copy-protection. So tracks encoded with Apple's FairPlay won't and, for sure, Microsoft's Plays for Sure won't either.

Some Sonos customers have asked why it isn't possible to play music videos on the full-colour controller. Sonos's answer is that people don't want to watch movies on a 3.5-inch screen. The company is also mindful, though, that Apple won't share the technology that would allow Sonos's kit to play the big-selling videos that are being bought via the iTunes Music Store any more than it lets it play Apple-bought music.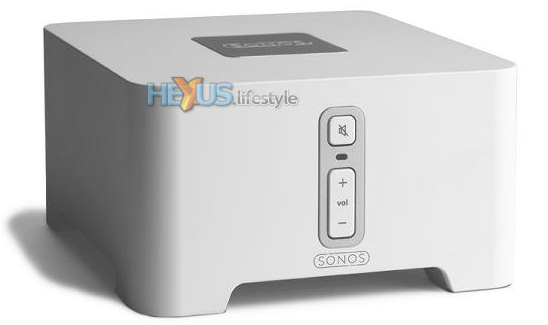 If you fancy a set of Sonos ZonePlayers, there are a number of bundles that offer some savings. The newest package deal gets you two ZP80s and a controller for £779. Disappointingly, that's way more than you have to pay for the bundle in the USA, where it's pitched at $999 - equivalent to £560.

Another starter bundle consists of two ZP100 amplified players and a controller. That costs £949 over here but only $1,199 (£672) in the USA. Likewise, the US price for the controller is $399 - equivalent to £224, making the UK price of £319 look a bit sick.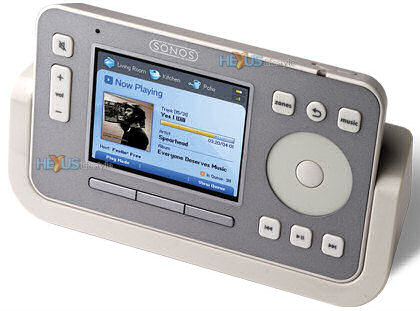 There's also a cradle available that charges the controller and gives it a home, so it's less likely to be lost. That should be available by the end of the month for £44.99 but costs the dollar equivalent of £28 in the USA .

However, according to Thomas L. Meyer, Sonos's worldwide head of PR, these price differentials are inevitable given that products in the UK go through distributors - who expect to earn a bob or two - and also carry 17.5 per cent VAT. In our experience, UK dealers also expect higher margins than their US equivalents, so that would likely be a factor, too.

Despite our moans about UK-US pricing differentials - which, unfortunately, tend to apply to a wide range of consumer electronics and computer kit - Sonos's system actually looks reasonably priced compared to some alternatives and does offer some tasty features. So, let us have thoughts on the available options over in the HEXUS.community.