Readi, Steadi?


Since getting myself a decent DV camcorder, I've been loving its built in Steadyshot function which goes a long way towards eliminates those wobbly scenes. But not always far enough. One of the big advances in professional filming was the arrival of the Steadicam - a very complex and expensive system of hydraulically-dampened arms and weights that a cameraman straps about himself and then mounts an even more expensive camera on to get smoothly flowing movement into each shot.

I've read all over the net of folks trying to build themselves something along the same lines to do the job with varying degrees of success but perhaps now we won't need to bother tinkering away in the shed because there's a realistic non-DIY option, the Steadicam Merlin.

The Merlin, which made its public debut last spring at the NAB show, is designed by Garrett Brown, who made the original Steadicam. It's actually a re-make of the Steadicam Jr and that seems very appropriate for the film industry! Weight is half that of the Steadicam Jr and it's claimed to be four times as stable. On its own, the Merlin is a super-light 12.8oz (360g) but weights do need to be added to counterbalance heavier camcorders. The action is smooth though not quite as smooth as from those huge, human-mounted jobs that Hollywood uses.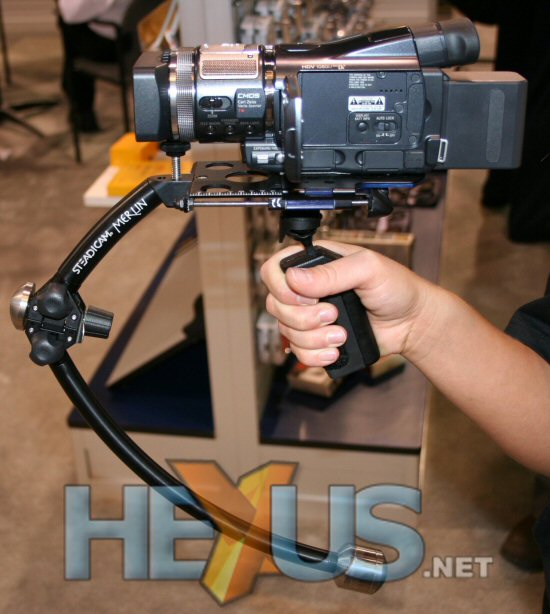 Click for larger image




The counterbalance system can be adjusted to cope with cameras weighting from 0.5 to 5lb (226g-2.27kg) and the dual extended-weight system gives a greatly increased inertial stability that can even cope with some pretty vicious jogging - though I didn't do too much of that - exercise isn't my bag, you know. Images remained rock-solid stable throughout, even in the middle of my mild coronary. Once I'd got my breath back, I had a close look at some of the Merlin's features.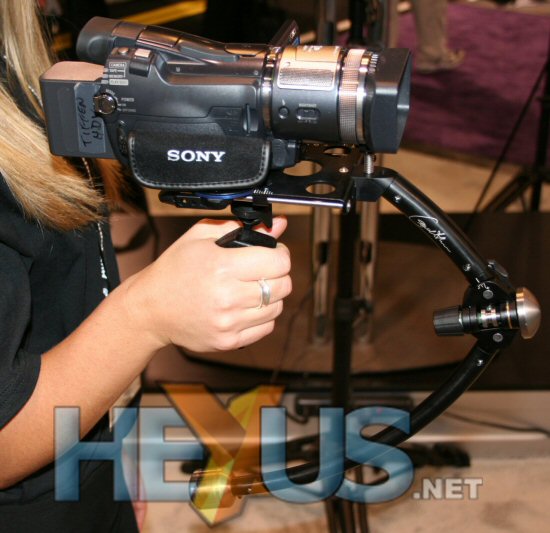 Click for larger image



There are two precision trim micrometers for balancing the camera on the trim stage, as well as spirit levels to give you a upright uprights and horizontal horizons - tweak those before you start moving. The three-axis gimbal mounting allows for smooth, flowing movements whether you're walking or jogging along.

One great feature is the folding lower spar that's mounted on a quick-release lock. This lets you speedily fold the arm back up to lie alongside the camera, making it quick and easy to switch from handheld use to shoulder-mounted without having to dismount the camera, avoiding a rebalancing job the next time the Merlin is used. From the brief play that I've had with the Merlin at CES, it appears to have been designed with the semi-pro in mind - or the serious home user. A price point of US$849 stops it from being an impulse buy but anyone wanting rock-steady shots on the move from a convenient-to-use piece of kit is going to want to check it out.