Buzzword bingo
There must be a good reason why none of the many technology and communications giants with a massive interest in combining the TV with the Internet have continually failed to do so.
Last year Apple put a bit more effort into it, but the fact that it set its sights so low speaks volumes about the challenges faced. Google, meanwhile, was more ambitious, and has been confronted by many issues as a consequence. As for Microsoft - still no sign of any dedicated initiative.
Arguably the biggest obstacle to be overcome - over and above bandwidth, DRM, and other technical challenges - is making the dizzying amount of content available via broadcast networks and the Internet easily available in a sofa-and-remote control setting. It could well be the company that overcomes this is none of the above, but a specialist called Rovi.
Rovi launched the Rovi Media Cloud at CES today, which is a set of services and API designed to facilitate just the kind of ordering and cross-indexing of digital content that even Apple and Google are struggling to do. Rovi specialises in facilitating access to content, and making it easier to find via extensive, cross-indexed metadata: things like summaries, reviews, imagery, scheduling, etc.
In a simplified sense Rovi provides a massive database of digital content, and this new cloud service is designed to make it easier for consumer electronics companies to access this information and integrate it into their Internet TV offerings. It's designed to lower the barriers to entry to Internet TV.
"The ubiquity of cross-platform Internet connectivity, along with consumers' increasing appetite for digital media, is driving our customers toward flexible and scalable cloud-based solutions," said Corey Ferengul of Rovi. "By opening up access to our data and technologies through APIs, we believe our customers and third party developers can more quickly and easily develop leading-edge solutions across all types of devices."
Within the Rovi Media Cloud is a suite of off-the-peg web services that includes: advertising, data, recommendations, recognition and search. There are also some end-products, designed in part to demonstrate the capabilities of the Cloud. These include: an iPad app called 'What's on TV', which syncs with existing subscriptions, an iPhone music discovery app, a personal media manager that matches your existing media with metadata in the cloud, and an update of its TotalGuide EPG.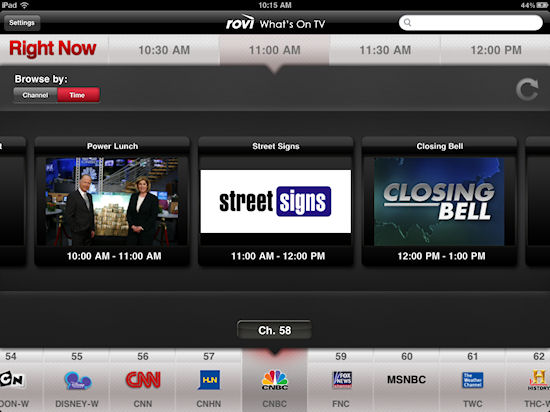 Rovi is far from the only company to show off new Internet TV technology at CES. Cisco has unveiled Cisco Videoscape, which is "a comprehensive TV platform for service providers that brings together digital TV and online content with social media and communications applications to create a new, truly immersive home and mobile video entertainment experience." Sound familiar?
And Internet services giant Yahoo has also been bigging up its 'Connected TV' platform. "Our collaboration with leaders in television and brand advertising, combined with the innovative technologies we're pioneering, signals the beginning of a new era of highly personalized, Internet-enhanced television," said Ron Jacoby, VP of Yahoo Connected TV.
Neither these, nor the efforts of the tech heavyweights already mentioned, are necessarily competitive with Rovi. This is because Rovi is primarily a white-label, B2B operator, which may well be powering a substantial part of some or all of their various Internet TV offerings. But this launch looks like it will make it easier for other OEMs to offer Internet TV without the help of any of them.