High-definition TV and Blu-ray have become common place, and with industry weight behind it, it looks as 3D TV will soon find its legs, too. One technology that has somehow managed to avoid the living room, however, is wireless.
Though we've seen promising tech demos from the likes of Intel, I personally couldn't name a single person that has a wireless home cinema setup. Fortunately, for those who've had enough of cable clutter - or more importantly those in a situation where running cables isn't an option - a new piece of kit from Gefen could be the answer.
It's dubbed the GefenTV Wireless for HDMI 60Ghz, and as the name suggests, it'll send a HDMI signal from one box to another completely free of wires.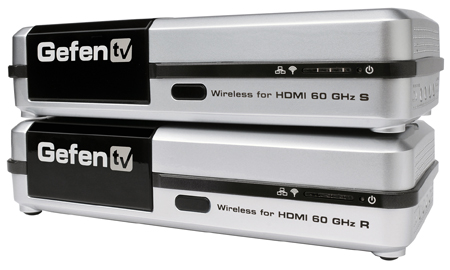 It isn't the first product of its kind, but using multi-antenna technology from SiBEAM, it is one of the first to offer wireless transmission of uncompressed full-HD 1080p media at distances of up to 30 feet.
Gefen's kit is HDCP-compliant so you needn't worry about protected content such as Blu-ray movies, and there's full support for multi-channel HDMI audio - including Dolby TrueHD and DTS Master Audio.
Ideal for hooking up your Blu-ray player to your HDTV, say, but Gefen reckons the GefenTV Wireless for HDMI is also suited to gaming, stating that "gamers will appreciate its low latency" and ability to also connect via DVI.
Sounds like we should all be using one, but there's a reason we aren't; a single sender/receiver kit will set you back $999. We'll wait until the technology is built into our respective AV equipment.