In addition to its Journe Touch MID and BDX2000 Blu-ray player, Toshiba is lighting up the IFA showground with its latest LCD TV - the REGZA SV series.
Described by the Japanese manufacturer as its most advanced LCD TV to date, the REGZA SV series - available in 46in and 55in models - are the first Toshiba LCDs to incorporate an LED backlight. The result, says Toshiba, is a "dynamic contrast ratio of 2,000,000:1, with 10 Bit processing creating a palette of over a billion colours to completely eliminate banding".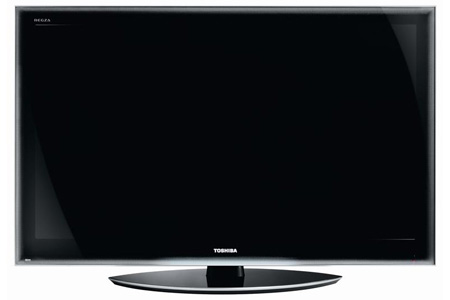 In addition to the LED backlight, viewers can look forward to 200Hz motion flow thanks to Toshiba's ActiveVision M200HD picture processing, along with its MetaBrain engine - a single chip that handles picture processing technologies including Resolution+ and Active Vision. Put it all together and the set promises to deliver "extremely high quality images to satisfy even the most demanding of viewers".
Although perhaps not as easy on the eye as Philips' 2009 Aurea, Toshiba's REGZA SV looks notably smart thanks to a "Deep Lagoon" design. That involves a frame that sits flush with the set's full crystal panel.
The screen is DLNA compliant, and provides four HDMI ports, a PC input, and a USB port allowing for easy playback of JPEG, MP3 and DIVX files.
We're told the REGZA SV series will be launching this month, but there's no mention of pricing yet. Ready for Toshiba's promo video? Here it is.