If you think Polaroid's instant cameras are a thing of the past, think again. The US corporation's latest instant snapper, dubbed Polaroid Two, claims to reinvent instant photography for the digital age and will hit UK stores next week.
The Polaroid Two, pictured below, is a five megapixel camera with a 4x digital zoom and a 3in LCD screen at the rear. Nothing particularly fancy when compared to digital cameras already on the market, but it does have a trick up its sleeve - the ability to instantly print 2in x 3in photos thanks to its built-in 300dpi ZINK Zero Ink printer.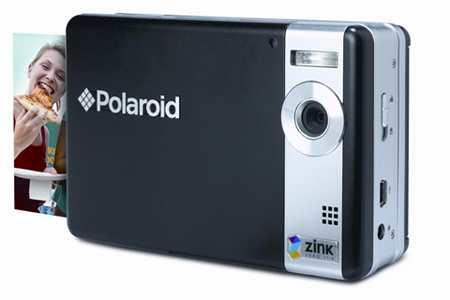 Pictures can be cropped and edited via the LCD screen, and one complete print is said to take around 40 seconds. Sounds useful for dishing out snaps to your mates, but there are a few provisos. Firstly, the rechargeable battery can provide only 15 prints per charge, and secondly, the required ZINK Paper currently costs in the region of £8 for 30 sheets.
Still adamant that you need your printed pictures then and there? The Polaroid Two is available to pre-order exclusively from Firebox.com at a cost of £229.95 and is expected to ship on May 11th.