Long live standard definition
LCD enthusiasts have waited a while for Toshiba's Cell-powered LCDs and the Japan-based manufacturer delivered today at IFA.
Toshiba's new range, branded as the Regza ZF series, features its co-developed Cell processor and Resolution+ technology. The result is an LCD screen that allows your standard-definition material to be upscaled and displayed at "near-HD quality" - similar, then, to its XDE DVD player.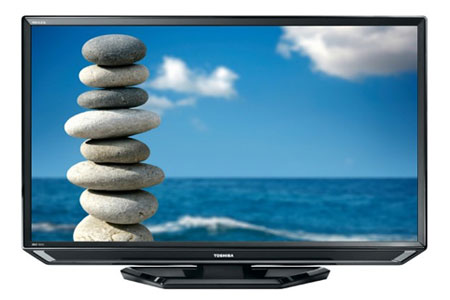 The Regza ZF, pictured above, will be available in 40in (40ZF575D) and 46in (46ZF575D) models. Both sets offer a 30,000:1 dynamic contrast ratio, 1920x1080 full-HD resolution, and Active Vision 100Hz processing. Connectivity will come in the form of four HDMI sockets, component, RGB and PC inputs.
Toshiba cites the current lack of free-to-air high-definition content as the primary purpose of its Regza ZF sets, and it should prove to be popular among users who've been left disappointed with the standard-definition quality of other high-end LCDs.
Sadly, pricing and availability are yet to be confirmed .