TVonics is no stranger to tiny Freeview boxes, but it claims its MFR-300 to be the best one yet.
The digital set-top box, pictured below, measures just 70mm x 27mm x 54mm, making it one of the smallest Freeview boxes available. Perfect for those who want an out-of-sight solution.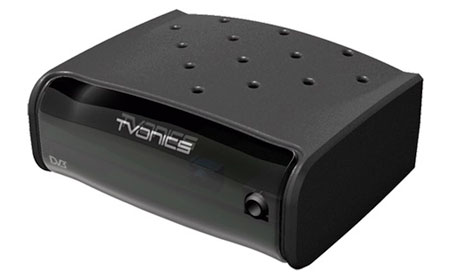 The unit doesn't house a SCART socket, probably due to its minuscule size, but that isn't a problem. It'll simply connect via co-ax aerial, making it ideal for age-old TV sets. Could be a perfect way to get the Grandparents tuned in to Freeview?
The unit provides an eight-day EPG and unlike the older MFR-200, there's audio description functionality for the visually impaired. The device will retail at £49.99 and TVonics lists its key features as follows:
Energy efficient and low power standby (5W operating, 1.5W standby).
Connects to your TV without the need for a SCART socket.
Audio Description. Audio description is an additional commentary that helps people with a sight problem to picture the on-screen action, body language and facial expressions.
Easy to use Remote Control.
8 day electronic programme guide provides TV and Radio listings on screen for a full week ahead.
Install out of sight behind the TV.
Parental Control.
Official product page:
tvonics.com