A new alternative to the satellite dish
Do you find the appearance of a satellite dish on the side of your house to be nothing other than vulgar? Or, worse still, are you tempted by the recently launched Freesat only to be put off by the idea of an unsightly dish?
Well then, what you'll be needing is a Sqish Dish: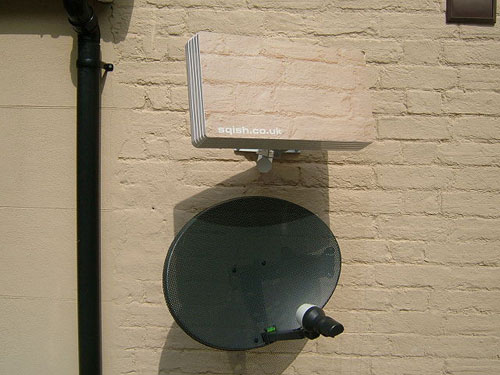 The Sqish, able to receive Sky and Freesat in the UK, can be aimed at mid and high-powered satellites including Astra, Hotbird and Eurobird.
What really makes it stand out, though, is its ability to be camouflaged by using a bespoke sticker created from a digital photo. The process itself has been dubbed 'sqishoflage', and it's really quite simple, take a picture of the location where your Sqish will be mounted and you'll be supplied with UV-stable matt finish sticker for you to attach. As the picture above shows, it works quite well.
Sqish prices start at £149 for a Single LNB dish, and up to £189 for a Quad LNB. The all-important 'sqishoflage' will set you back a further £25.
Personally, despite not being overly keen on the black satellite dish residing on my house, I wouldn't pay some £175 to have it replaced with something that blends right in. Though, if I needed a brand new dish, then, maybe, I'd be wanting a Sqish.