Valve has revealed its Index VR headset, and a number of hardware bundles. We previously got a glimpse of the Index back at the end of March when Valve shared a single page teaser for the headset. Today we know quite a lot more about the hardware, plus its pricing and availability dates.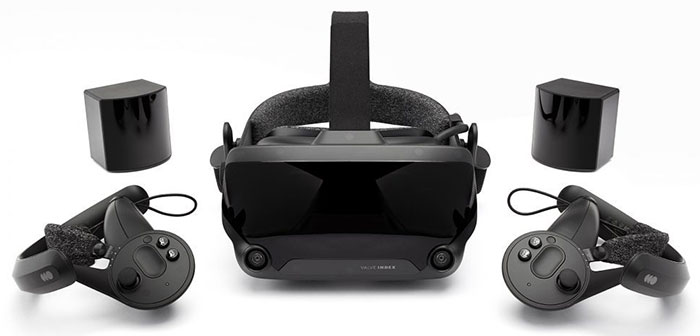 One thing that is immediately noticeable about the Valve Index proposition is that the pricing flies in the face of the current downtrend and is pitched at a rather high premium. This is likely down to Valve's decision to go for "fidelity first" as per the marketing blurb on the HMD's product page.
The headline specs of the Valve Index include; twin screens with 120Hz refresh with 1400 x 1600 pixels per screen, dual mic, stereo 960 x 960 pixel cameras, various fitting adjustments, IPD adjustments between 58 and 70mm (good for 95 per cent of humanity), PC connection via USB 3.0, DisplayPort 1.2, 12V power connector.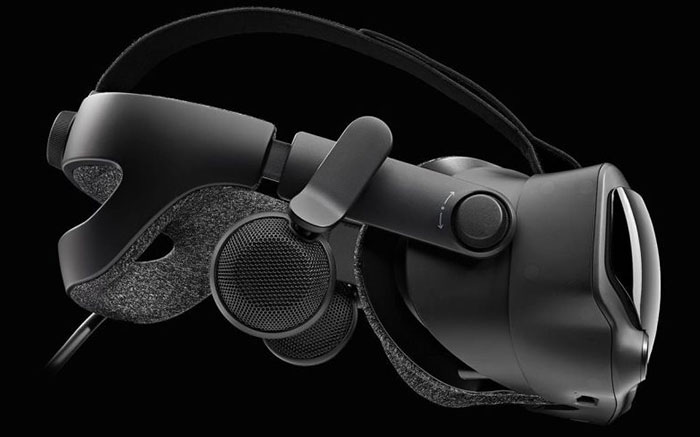 Valve says that its screens offer "50 per cent more subpixels" than OLED screens from rivals. The system supports 80Hz or 90Hz refresh rates if needed (and there is an 'experimental 144Hz mode). Furthermore, the HMD offers a 20 per cent greater FOV than the rival HTC Vive.
Valve's controllers wrap around your hands and provide not just spatial motion control but the 87 sensors per hand track gestures and finger movements too. Picking things up, pinching, signalling and so on are said to be natural with these controllers. Force sensors can see how tight your grip is too. The 2.4GH wireless controllers include various buttons and trackpad inputs for gaming, and last for 7 hours on their rechargeable batteries.
Valve says its wide field of view base stations facilitate play spaces up to 400 per cent larger than its HTC Vive competitors. Two or more are recommended depending upon the size and complexity of your play area.
Minimum PC requirements seem modest starting from the following:
OS: Windows 10, SteamOS, Linux
RAM: 8GB+
GPU: NVIDIA GeForce GTX 970+ or AMD RX480+. Available DisplayPort required, HDMI not supported
CPU: Dual Core with hyperthreading, or better
USB: 3.0+ for headset cameras
However, a recommended setup will sport a quad core+ CPU and an Nvidia GeForce GTX 1070 or better.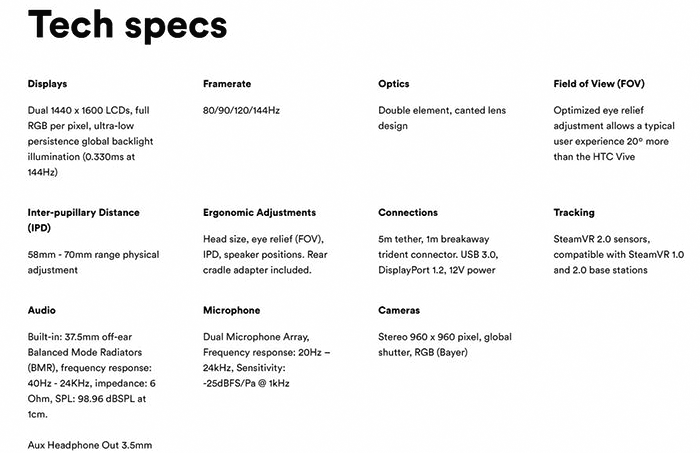 A full Valve Index VR kit with headset, controllers and two base stations will cost you £919 / $999. There is a smaller bundle of Valve Index Headset plus a pair of Controllers for £689 / $749. If you prefer to, or would need to build up a system piecemeal you can get the following things separately; £459 / $499 – Valve Index Headset, £259 / $279 – Valve Index Controllers, £139 / $149 – Valve Index Base Station (1).
Pre-orders are expected to open later today. Here in the UK shipping is expected to start from 28th June. Valve teases that a first party "flagship VR game" will be launched for the Index later this year.