Magic Leap has finally unveiled a version of the mixed reality product it has been working on in secrecy since its founding in 2011. The company has gone on to raise $1.9 billion from investors (such as Google and Alibaba) in the meantime, periodically teasing its technology and the capabilities it will usher in. Yesterday Magic Leap showed off the first official product images and even allowed a Rolling Stone reporter to give its AR system a test run.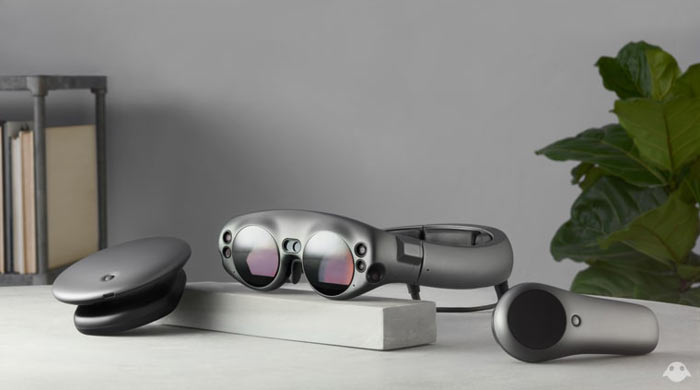 What you see above is the Magic Leap Lightwear goggles (centre), the Lightpack processing unit (left) and Control (right, sporting six buttons, 6DoF, motion sensing and haptics). We don't have any further direct info about the hardware, just the experiences shared by the Rolling Stone reporter Brian Crecente.
During his first experience among a stage dressed for a kind of sci-fi world, Crecente says of the mixed reality elements: "while it didn't look indistinguishable from reality, it was close". Overall with the stage set, powerful hidden fans, building shaking speakers and computer controlled lighting - the experience was "startling".
In a subsequent environment, a large room decorated like a living room, Crecente walked around a computer generated floating robot by the name of Gimble. He describes the animated robot as solid, with an appearance of volume, rather than some flat image in the air. Interestingly, as Crecente got closer to look at the robot, pixels weren't exposed, it got clearer. An issue was exposed by getting too close to Gimble - that made it disappear. In another test scene a computer generated woman entered the AR room and, unnervingly, maintained eye contact with the reporter.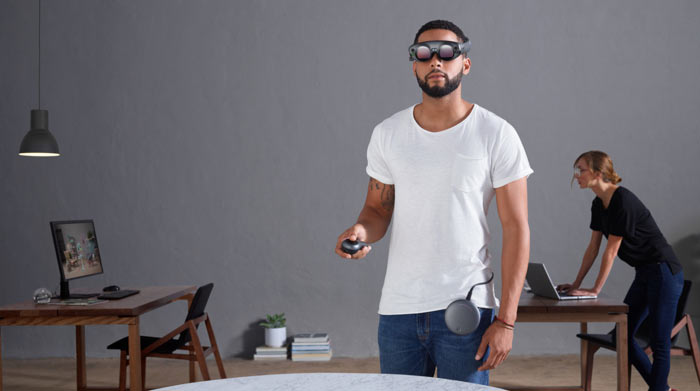 The headset and peripherals you see are said to be ninth generation. Eventually the goggles portion will be refined to become just like everyday glasses, hopes the company. Right now one of the significant issues with Lightwear is the field of view. Just like Microsoft's HoloLens, only a central window of your view can contain AR imagery. The Rolling Stone reporter described the active window as being "about the size of a VHS tape held in front of you with your arms half extended". Apparently that's "much larger than the HoloLens" but still a jarring break from reality. On this topic Magic Leap says it will implement a "significantly bigger" FOV in the next gen product.
As for product launch, the Magic Leap One: Creator Edition based on the hardware shown to Rolling Stone will be available for developers, brands, agencies, and early adopter consumers. It will ship sometime next year but we don't have a price.