Gadget shop, The Sharper Image, is the first stockist in the USA of the DV920 eye-glasses-style LCD video system, said to let users of video iPods enjoy movies and other downloads on a virtual 42in display. The $549.95 DV920 is made by icuiti, a company that also sells its portable microdisplay technology to the military - and for gaming.
The bullet points that The Sharper Image lists for the product include:
* Virtual 42-inch LCD screen
* Micro-LCDs feature 920,000 pixels with 640x480 resolution. Each lens focuses independently from +2 to -6 diopters; if necessary, you can wear with your eyeglasses
* Designed to be non-immersive — meaning you can still see the world around you when in use [
No!

This doesn't mean you can use it while driving - Ed
]
* Integrated hi-fi stereo earphones are adjustable and removable, too, if your prefer using your own favorite headphones
* System includes a small controller that is plug-and-play ready with any video iPod, game console, DVD or VCR player, PC, laptop, video camera or A/V cell phone
* Designed for super-comfortable long-term viewing — even of a full-length movie.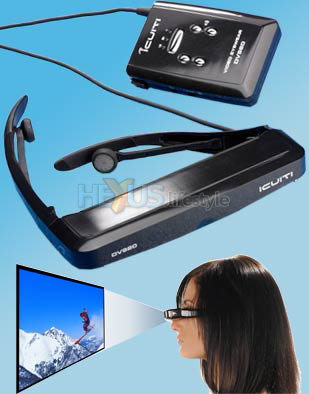 The eyewear element weighs 3.5oz (100g) and the system is said to run continuously for up to three hours on a pair of AA batteries. Batteries are included, as are a mains adaptor, a carry case, three sizes of interchangeable nose pads (for a custom fit!), a lens cloth and A/V cables.

The specs given on icuiti's own site are:



Display




- 2 VGA LCD panels (920,000 pixels each)
- 640 by 480 resolution in true color, supports upto 1024x768 on PC's and Laptops
- 26° field of view
- Image appears as if projected at a distance of 7 feet
- 15 degrees of vertical tilt
- Left/right, independent focus (approx. +2 to -6 diopters)





Video input formats




- Decodes standard NTSC and PAL


- Field Sequential NTSC 3D


- S-video*

- VGA: 640 by 480 2D at 60Hz

- VGA: 640 by 480 field sequential 3D at 60Hz

* optional cable required




Audio




-100 mW per channel, removable stereo headphones 1⁄8" stereo headphone jack





Weight




- Display: 3.5 oz. (w/headphones)
- Controller: 3.8 oz. (w/batteries)





Batteries




- 2 AA Alkaline batteries (included)
- 2 to 4 hours of continuous use, based on battery type





Power




- 5V DC power adapter (100 to 240 VAC, 50 or 60Hz., included)
- USB power adapter (optional)





A/V cables




- Composite video (included)
- VGA for PCs & laptops (included)
- iPod cable (optional)
- S-video (optional)




The DV920, as you can see from the specs, is suitable for use with PAL sources, not just NTSC but, although The Sharper Image's web store does have an international section, UK buyers aren't currently able to order the icuiti product.

On the upside, though, we have been able to locate one UK stockist, London-based 3D-display specialist Inition, which sells the DV920 for £350 (excluding VAT and deliver) - and in a choice of colours - and stocks a bunch of comparable products, too. The FAQ section on the company's page about the DV920 is well worth checking out. However, Inition appears to have no direct-buy options on its web site.

Thoughts on this or other similar products? Why not share them in the HEXUS.community?



HEXUS.links



HEXUS.community - discussion thread about this article
The Sharper Image - DV920 buying page (USA)
Inition - London-based DV920 stockist (Tel: 020 7613 5004)
icuiti - DV920 home page