At CeBIT 2006, Primera Technology is showcasing the world's first combined Blu-ray Disc burner-printer, the Bravo XR-Blu Disc Publisher.



The Primera system centres on Pioneer's new BDR-101A Blu-ray Disc burner. This is paired with Primera's proven automated disc-handling technology and direct-to-disc, full-colour print engine. The initial release of the Bravo XR-Blu works with single-layer discs able to store up to 25 gigabytes of data. An upgrade is promises shortly after launch that will allow the use of dual-layer 50GB media. Up to 50 discs can be loaded into Primera's machine, so that will allow up to 2.5 terabytes of data to be published in one session.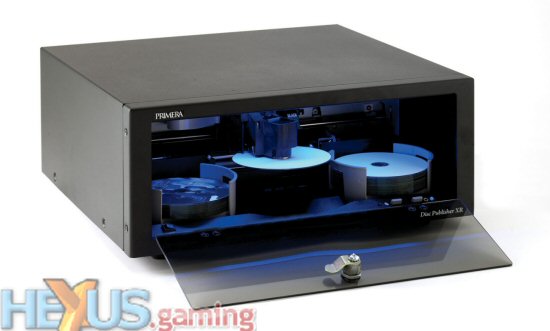 Click for larger image



The PS3 will be the first games console to utilise Blu-ray Disc as a storage medium

Obviously the technology is aimed at professional buyers in a multitude of industries, such as banking, digital-movie post production and government. At a cost of $6,000 dollars we doubt they'll be many high street shoppers investing in this product.

If you're looking for a cheaper option, you could try the Samsung SH-B022, which can burn a 25GB disc in approximately 43 minutes. The burner is due out in April and will retail at around $500.