AMD has settled a false advertising lawsuit that was launched in the US back in 2015. AMD's agreement to pay $12.1 million is thought to be a good deal, to eliminate risks and expenses of further litigation going forward.
If the court estimated fifth of customers come forward to make a claim, each customer will get $35 per chip bought. As the size of the 'pie' is defined, that figure can vary up or down depending upon how many people get around to filling in the required forms. It is thought that lawyers will take about 30 per cent of the $12.1 million pie, leaving about $8.8 million to be divided between the Bulldozer owners.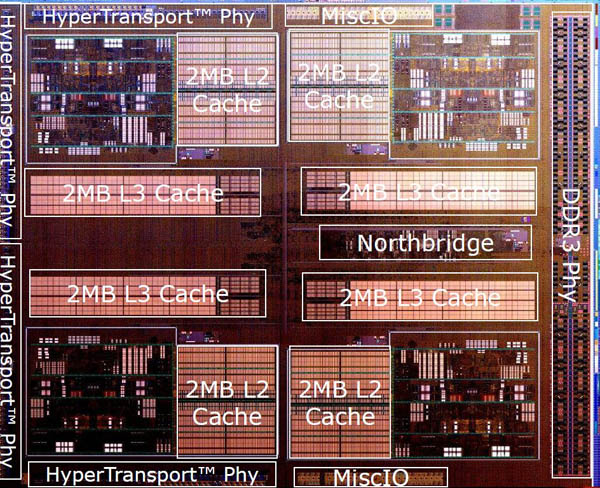 Four execution core modules surrounded by caches and I/O
The crux of the complaint against AMD concerns the advertised core counts of the Bulldozer chips. As we reported back in 2015, AMD was accused of false advertising, fraud, breach of express warrant, negligent misrepresentation and unjust enrichment due to the core counts advertised in this range of CPUs.
To recap, Bulldozer combines two integer cores in a module, with a shared floating-point unit and a shared L2 cache. Multiple modules are combined to create CPUs. In the class action lawsuit the plaintiffs asserted that a Bulldozer CPU which claims to offer 8-cores cannot necessarily perform eight calculations simultaneously and should therefore be described and advertised as a 4-core chip.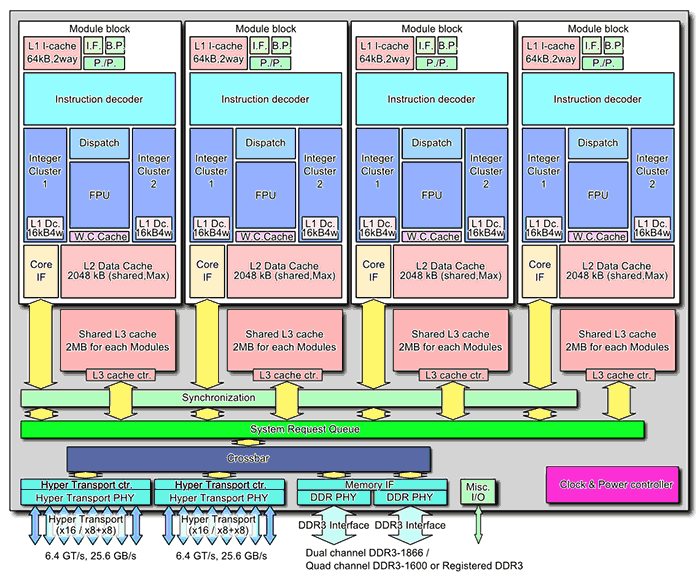 To qualify for the settlement as an AMD Bulldozer customer you must have bought one of seven different AMD chips that the company advertised as having eight cores, either through AMD's website or while living in California, reports The Register. A PDF of the AMD legal agreement is available via El Reg too.
Launch prices for the AMD Bulldozer chips ranged between $115 and $245 back in 2011. If you are interested in how Bulldozer performed and the HEUXS editor's thoughts about the design, you can head back to our AMD Bulldozer FX-8150 in-depth review from November 2011.