With the buoyant values of the two main cryptocurrencies, Bitcoin and Ethereum, near all time highs mining activity has reached new heights too. PC enthusiasts know this all too well, as the economies of cryptocurrency mining has caused a severe drought of the best bang-per-buck graphics cards available, so many have PC rig upgrade plans on hold. Despite specialised mining hardware, and GPUs, being more power efficient than ever, the power consumption from those indulging in the activity is greater than ever and rivals many small countries.
Digiconomist has sought to quantify and compare worldwide power consumption of cryptocurrency miners with that of countries around the world. It has separate charts for Bitcoin and Ethereum but I'm more interested in the overall picture.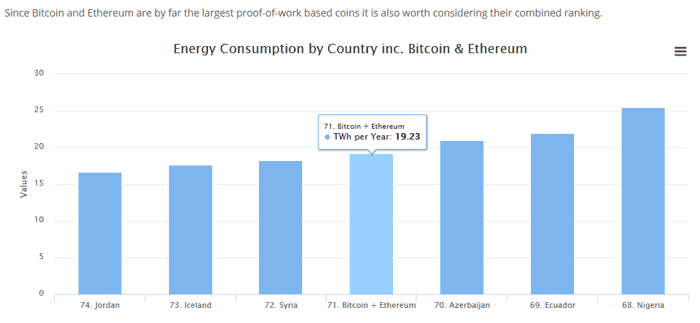 The most recent figures from the power consumption tracker suggest that Bitcoin's current estimated annual electricity consumption is 15.54TWh. Meanwhile Ethereum miners have consumed 4.69TWh of electricity. In other terms if 'Bitcoin' were a country it would sit in the power consumption rankings at position 81 between Slovenia and Turkmenistan. For Ethereum it sits at position 121 somewhere between Cyprus and Moldova. If you combine these two cryptocurrency mining operations the power consumption ranking goes up to position 71, with 19.23TWh per year - shown in the chart above.
Most people won't have a good feel for the power consumption of a country like Turkmenistan, for example, so let's look at a couple of other metrics. In the UK our 16 nuclear power stations contribute 70TWh to the total of 338TWh electricity produced (2015 figures). In 2016 the UK's energy use was reduced to 307TWH, according to the Global Energy Statistical Yearbook.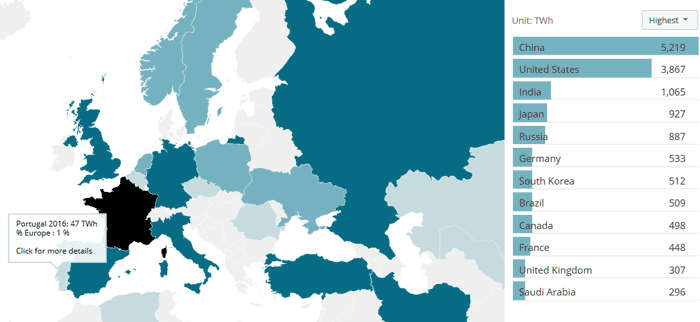 In a similar study of IT power usage back in 2012 we saw that usage of 'The Internet' worldwide required output equivalent to 30 nuclear power stations.