Speculation that Google is considering using the ARM architecture to build its own server chips was reported by Bloomberg last night. The information was apparently shared by "a person with knowledge of the matter" who "asked not to be identified because the matter is private". If the source was accurate, and the decision goes through, it could be a move that would threaten Intel's server market dominance as Google, being its fifth largest customer, accounts for over four per cent of Intel's revenue.
ARM, The Cambridge-based microchip designer, licenses its designs to chipmakers predominantly in the mobile phone and tablet markets, to firms such as Samsung and Qualcomm. But we have seen the firm trying to step towards and compete with Intel's business interest in chips used in servers (alongside AMD) as ARM licensees work on various server-class designs.

After Bloomberg's report last night, we saw ARM's shares climb steadily during the morning as the news sunk in, peaking at 1,028p, nearly 5.7 per cent up by 9.30am today and closed at 3 per cent up, just over £10 a share, at 1,003.50p. The firm, which receives royalty on the sale of every chip that uses its technology, has declined to comment on the report. But a deal with Google will certainly speed up ARM's efforts to excel in the server market.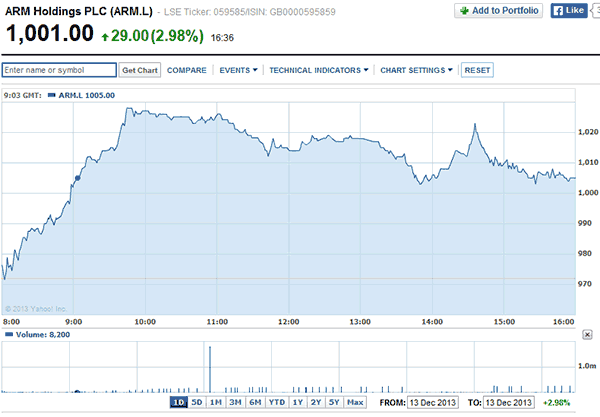 "It is unclear if Google actually wants to go ahead with such an expensive design process when ARM-based semiconductor suppliers exist, or if it is putting this speculation in the market to reduce prices of both Intel and ARM-based processors," commented Janardan Menon from Liberum discussing the possibility. However Bloomberg's source believes that if Google uses its own designs, they could "better manage the interactions between hardware and software". Although it was highlighted that no official decisions have been made and plans could still change.