RISC-y business (sorry)
Chip giant Intel is struggling in its battle against RISC architectures in the embedded space, where ARM (advanced RISC computing) is the dominant incumbent. But at the other end of the performance spectrum - high-end servers - x86 has been eating into the RISC market.
But as the most recent IDC figures show, the likes of IBM are still putting up a strong fight, which may be why Intel is positioning its latest higher-end server processor launch - the Xeon E7 family - as the ideal choice for companies looking to move away from mainframes.
The E7 family has a bunch of stats associated with it that presumably mean a lot to CIOs. Previously codenamed Westmere EX, this family of chips targets datacenters, and positions itself as a cloud computing solution.
We spoke to Richard George, director of cloud services at Intel, and asked him to whittle down this launch to the two most key features. He identified new security features, which he said address the biggest concerns CIOs have in moving to the cloud, and the 2TB of addressable memory at the ones that characterise the launch. Here's an Intel slide summarising the new chip family.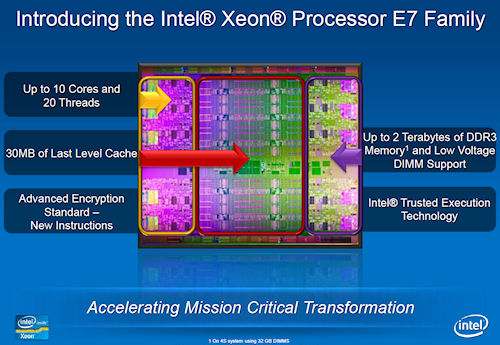 We also spoke to Paul Larson, head of server marketing at Dell, who emphasised how committed Dell is to Intel-based servers. He thinks many businesses are now finding mainframes to be too expensive and are looking for alternatives. He proposed the Pweredge R910 4-socket rack server and its M910 blade equivalent as just that.
Here's a great big price list, which features the also newly launched Xeon E3-1200 range, aimed at the SMB server market.
| | | | | | | |
| --- | --- | --- | --- | --- | --- | --- |
| Processor Number | Processor Frequency | Intel Smart Cache | TDP | Intel Turbo Boost Technology; Intel Hyper-Threading Technology | Cores / Threads | 1kU Price |
| Intel® Xeon Processor E7-8870 | 2.4 GHz | 30M | 130W | √ | 10 / 20 | $4,616 |
| Intel® Xeon Processor E7-8860 | 2.26 GHz | 24M | 130W | √ | 10/ 20 | $4,061 |
| Intel® Xeon Processor E7-8850 | 2 GHz | 24M | 130W | √ | 10 / 20 | $3,059 |
| Intel® Xeon Processor E7-8830 | 2.13 GHz | 24M | 105W | √ | 8/16 | $2,280 |
| Intel® Xeon Processor E7-8867L | 2.13 GHz | 30M | 105 W | √ | 10/20 | $4,172 |
| Intel® Xeon Processor E7-8837 | 2.67 GHz | 24M | 130 W | Turbo; no HT | 8 | $2,280 |
| Intel® Xeon Processor E7-4870 | 2.4 GHz | 30M | 130W | √ | 10 / 20 | $4,394 |
| Intel® Xeon Processor E7-4860 | 2.26 GHz | 24M | 130W | √ | 10/ 20 | $3,838 |
| Intel® Xeon Processor E7-4850 | 2 GHz | 24M | 130W | √ | 10 / 20 | $2,837 |
| Intel® Xeon Processor E7-4830 | 2.13 GHz | 24M | 105W | √ | 8/16 | $2,059 |
| Intel® Xeon Processor E7-4820 | 2 GHz | 18M | 105 W | √ | 8/16 | $1,446 |
| Intel® Xeon Processor E7-4807 | 1.86 GHz | 18M | 95 W | No turbo; HT | 6/12 | $890 |
| Intel® Xeon Processor E7-2870 | 2.4 GHz | 30M | 130 W | √ | 10/20 | $4,227 |
| Intel® Xeon Processor E7-2860 | 2.26 GHz | 24M | 130 W | √ | 10/20 | $3,670 |
| Intel® Xeon Processor E7-2850 | 2 GHz | 24M | 130 W | √ | 10/20 | $2,558 |
| Intel® Xeon Processor E7-2830 | 2.13 GHz | 24M | 105 W | √ | 8/16 | $1,779 |
| Intel® Xeon Processor E7-2820 | 2 GHz | 18M | 105 W | √ | 8/16 | $1,334 |
| Intel® Xeon Processor E7-2803 | 1.73 GHz | 18M | 105 W | No turbo;HT | 6/12 | $774 |
| Intel® Xeon Processor E3-1200 Product Family | | | | | | |
| Intel® Xeon Processor E3-1280 | 3.50 GHz | 8M | 95W | √ | 4 | $612 |
| Intel® Xeon Processor E3-1275 | 3.40 GHz | 8M | 95W | √ | 4 | $339 |
| Intel® Xeon Processor E3-1270 | 3.40 GHz | 8M | 80W | √ | 4 | $328 |
| Intel® Xeon Processor E3-1260L | 2.40 GHz | 8M | 45W | √ | 4 | $294 |
| Intel® Xeon Processor E3-1245 | 3.30 GHz | 8M | 95W | √ | 4 | $262 |
| Intel® Xeon Processor E3-1240 | 3.30 GHz | 8M | 80W | √ | 4 | $250 |
| Intel® Xeon Processor E3-1235 | 3.20 GHz | 8M | 95W | √ | 4 | $240 |
| Intel® Xeon Processor E3-1230 | 3.20 GHz | 8M | 80W | √ | 4 | $215 |
| Intel® Xeon Processor E3-1220L | 2.20 GHz | 3M | 20W | √ | 2 | $189 |
| Intel® Xeon Processor E3-1225 | 3.10 GHz | 6M | 95W | √ | 4 | $194 |
| Intel® Xeon Processor E3-1220 | 3.10 GHz | 8M | 80W | √ | 4 | $189 |