Apparently it's not just SSDs that Intel wants to standardise. The chip-giant has announced three new programmes that aim to standardise and simplify the creation, interoperability and deployment of cloud infrastructures and data centres.
The Open Data Center Alliance (ODCA) is a coalition of more than 70 companies including BMW, Deutsche Bank, JP Morgan Chase, Lockheed Martin, Shell, UBS and Marriott International. Apparently, the members - who invest a combined $50 billion in IT every year - were unsatisfied at the lack of unity between different systems from different manufacturers. As a result, they will work on devising hardware and software requirements that will lead to more open and interoperable infrastructure solutions. In turn, this will help the businesses in preparing for and coping with the increasing demand for rich web-services.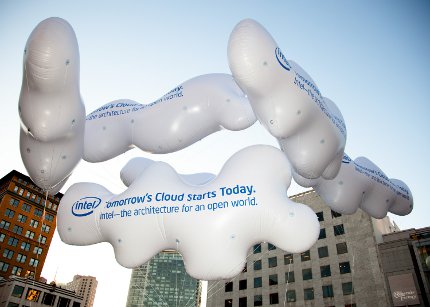 Interoperability will also be one of the three foundations of the Cloud 2015 project. This is an Intel initiative that will attempt to move towards automated, client-aware cloud systems that are more energy efficient. As a major provider of cloud-enabling software and hardware, the company will be able to integrate many of these new technologies directly into its products.
Tying both of these initiatives together is the Cloud Builders programme. This grouping of hardware and software partners aims to provide better guidance on building, deploying, maintaining and optimising cloud servers, with the aim of achieving and implementing the goals of the ODCA and Cloud 2015. As well as Intel, companies including Dell, Cisco, Citrix, HP and IBM have all signed up, along with software providers such as Microsoft, Canonical, Red Hat, VMWare and Parallels.
Talking at a press conference this morning, Intel VP Kirk Skaugen told the press that "the industry has an opportunity to accelerate the potential of cloud computing, delivering even better industry economics through this transformation," adding that "our goal is to ensure that cloud computing continues to deliver breakthrough economics based on the same fundamental principle - innovation on open, interoperable standards."