Reach for the cloud
Chip-maker AMD has launched two new processor families targeted at the needs of cloud computing data centres.
The new Opteron 4000 series platform is the first, says AMD, to be designed specifically for this market. The four and six core CPUs stress power-efficiency for 1P and 2P systems, and already have support from HP, Dell, Acer and Supermicro among other OEMS.
"Until now, customers wanting to build a dense and power-efficient cloud or hyperscale data center had to shoehorn expensive, higher-end solutions into their computing environment, or they had to choose low-power client-based designs that may not have offered the right level of performance and server functionality," said Patrick Patla, corporate VP and GM of AMD's server and embedded division.
"With the AMD Opteron 4000 Series platform, these customers now have a server platform that is extremely power- and cost-efficient, allows a high degree of customization, and is also an ideal solution for high-end embedded systems."
The Optreron 4000 series claims a power reduction of up to 24 percent over the previous generation, and the platform is planned to support next year's Bulldozer core. The 4100 series CPUs offers CPUs for as little as $99 and allows lower profiles in terms of heat sinks and fans.
On top of that, AMD has updated its FireStream GPU compute accelerators with the Radeon 5000 generation of GPUs. The FireStream 9350 and 9750 are also targeted at the cloud computing market, with GPU computing expected to become ever-more prominent, and offer up to 2.64 TFLOPS of compute power.
"Heterogeneous systems in which high-performance GPU and x86 CPU technologies work in tandem can deliver enormous computational power," said Patricia Harrell, director of stream computing at AMD. "Industry standards like OpenCL are driving rapid adoption of heterogeneous architectures, and commercial customers deploying systems with AMD FireStream accelerators and AMD Opteron processors can immediately experience the benefits of the combined technologies."
Here's a nice, shiny Opteron 4000 die for you.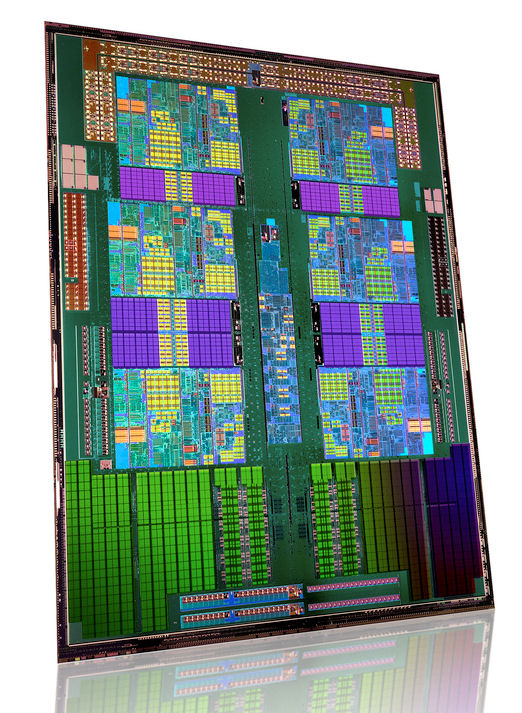 UPDATE - 12:30 23 June 2010: Here's AMD's presentation on the Opteron 4000 platform