Duopoly
Market researcher Nielsen has released its latest data on trends in the US smartphone market, and they reveal undiminished momentum for Android.
While Google's mobile OS accounts for 43 percent of all smartphone subscriptions in the US, that number jumps to 56 percent if you just look at purchases made in the past three months. So the current trend is for the majority of new smartphone purchases to be Android.
Apple's figures, meanwhile, are pretty stable at 28 percent of all smartphones and the same proportion of recently-purchased ones. The big loser from Android's continued popularity in the US is BlackBerry, which accounts for 18 percent of the total, but only nine percent of recent ones. The decline of 'others' which includes Windows, Symbian and webOS, comes as no great surprise.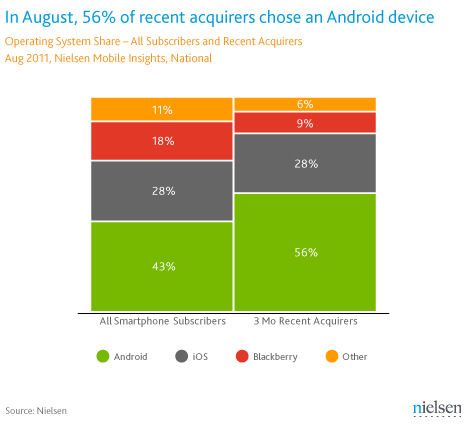 The other chart published concerns overall smartphone penetration, as a proportion of all mobile subscriptions. The green line shows total penetration and the orange line shows the rolling three month figure. The trend is relentlessly upward, with it taking a year for the three month trend to manifest itself in the total. Maybe we'll see near total smartphone penetration by 2015.