Snapping up the market
Market researcher Strategy Analytics has published its latest figures on the smartphone application processor - otherwise known as SoC - market. They reveal Qualcomm now owns the majority of this market by revenue, thanks to its Snapdragon family of chips.
"Qualcomm gained 50 percent revenue share in Q2 2011 on the strength of its dominant market position in the Android ecosystem and Snapdragon processor momentum," said Stuart Robinson, director of handset components at SA. "Strategy Analytics estimates that Qualcomm applications processors powered over 60 percent of the Android smartphones shipped in Q2 2011.
"In contrast, Qualcomm competitors Broadcom and ST-Ericsson so far failed to capitalize on smartphone growth in order to build a strong position in the applications processor market, despite their similar integrated approach."
We managed to get hold of the raw data from SA and it reveals that TI, which once dominated the smartphone SoC market thanks largely to its relationship with Nokia, has lost a huge amount of business to Qualcomm and Samsung. However we assume Samsung's figures include the Apple SoCs - as they did last quarter - so we might see Samsung's share fall if Apple moves to TSMC for its chip manufacture.
Also worth noting is the fact that NVIDIA, for all its bullish predictions, still only has a small share of the market. However it's still early days for a company that has only been in this market for a year or so, so we'd expect to see that share climb rapidly - especially if Kal-El is anywhere near as good as NVIDIA says it is. What is less inevitable, however, is that NVIDIA will take that share from Qualcomm.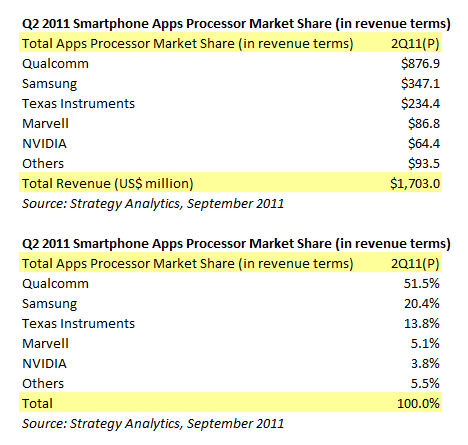 "Dual-core processors accounted for 14 percent of total smartphone applications processors shipped in Q2 2011, which helped vendors such as NVIDIA and Samsung move up in rankings," said Sravan Kundojjala, senior analyst at SA. "Strategy Analytics foresees dual-core processors helping the overall applications processors market to maintain healthy average selling prices (ASPs) and sustaining revenue growth in years to come."