Advanced Micro Devices (AMD) announced the departure of three senior executives on Monday. The General Manager of Computing and Graphics Business Group, John Byrne; Chief Marketing Officer, Colette LaForce; and Chief Strategy Officer, Raj Naik are all stepping down following recent layoffs and the appointment of new CEO, Dr Lisa Su, reports Reuters.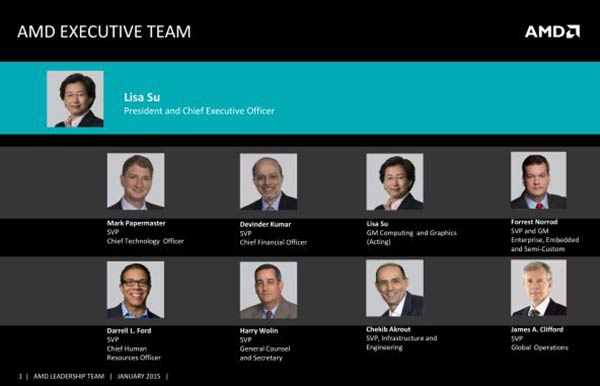 The significant shakeup of AMD's executive lineup is among the first public actions by Su since her promotion in October. It comes in the wake of AMD's business reorganisation effort which started in 2014. The newly appointed CEO hopes to reduce the loss of market share to Intel Corp and to sustain and revamp the firm's profitability and sales growth. The firm announced plans in October to trim its workforce by around 7 per cent.
"These changes, including the additions of Forrest Norrod and James Clifford to our management team last quarter, collectively are part of implementing an optimal organization design and leadership team to further sharpen our execution and position AMD for growth," AMD said in a statement in announcing the departures.
AMD's stock market value has halved since 2011, loosing ground to the much-larger Intel which holds a market share of over 82 per cent in PC processors, a business that accounts for much of AMD's revenue. Its progress in expanding into new markets such as games consoles and low-power servers has also been lengthier than demanded by Wall Street.
Su will assume Byrne's responsibilities during the period which the company conducts an external search for his replacement, as shown above in the management structure chart. In addition, AMD mentioned in the filing that it is issuing retention stock awards to Chief Financial Officer Devinder Kumar and Chief Technical Officer Mark Papermaster.
"These changes to the leadership team reporting into our CEO are a part of implementing an optimal organization design and leadership team to drive AMD's future growth," said Drew Prairie, a spokesman for the California-based company, adding that all three executives are leaving AMD to "pursue new opportunities."
AMD CEO, Dr Lisa Su, recently gave an exclusive interview to HEXUS.