It is well known that AMD is restructuring and readying itself to be a competitive player in the post-PC era. However while it goes through these changes it may have to go through some difficult times. It's natural for talented executives to want to jump ship from a company that is cutting, rationalising and reorganising to one that is investing, expanding and reaching higher.
According to AllThingsD at least 26 top AMD execs have departed for sunnier shores in recent months. Now another AMD veteran has jumped and this one has been taken in at Samsung, a giant technology company enjoying record profits.
Michael Goddard had been an employee at AMD for 25 years. Mr Goddard was corporate VP for product design engineering and chief engineer on client products at AMD. Now he has crossed over to work for Samsung, at its Austin, Texas facility. His new title is "VP and system architect".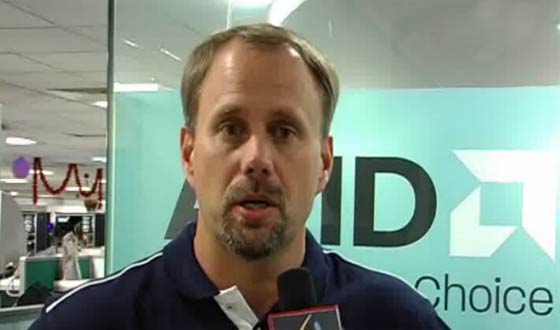 Michael Goddard, ex-AMD
AllThingsD reports that "people close to AMD were surprised" by Goddard's move and it is almost certain his departure was due to his own choices rather than AMD's current spate of cuts. Goddard was a well respected engineer at AMD who had previously worked very closely with Dick Meyer, AMD's CEO from 2008 to 2011.
AMD still strategically hiring talent
AMD has made positive moves in the face of its top level brain drain. After confirming Goddard's move, an AMD spokesman told AllThingsD that it is continuing to hire new talent strategically. Most notably, in August, AMD hired former head chip designer from Apple, Jim Keller. (Before working at Apple, Keller was the original architect of AMD's Athlon line of processors!) Keller could be very important to AMD in the post-pc era, having been instrumental in working on the fruity company's A4 and A5 mobile processors. He would most probably "be focused on architecting the lowest power cores at a given performance level" as well as new SoC designs said former AMD VP Patrick Moorhead.