End of an era
Chip company AMD has announced that, four years after acquiring it, the ATI brand is to be dropped from all its marketing and will be referred to only in nostalgic terms from now on.
A year ago, AMD announced a strategic refocus on the notebook market under the banner of its new consumer notebook brand: Vision. Product marketing VP Leslie Sobon explained that it was time to start marketing PCs as consumer electronics items (a bit like Apple has for the last decade? - Ed).
But one of the things that struck us most about the new brand was that it was red, as opposed to green. While this made sense purely because NVIDIA is green and Intel is blue, it also seemed to be an admission that ATI was the stronger consumer brand.
Now, it seems, the rebrand was an attempt to appropriate the ATI brand strength before ditching it. AMD also reckons the Radeon brand (which it's keeping, along with FirePro) is just as strong as ATI. And it must be said, it had been rather boring not knowing whether to refer to the company's discrete graphics as AMD or ATI, so at least that's sorted now.
Discrete cards aside, the only real time the ATI-less Radeon brand will crop up is on the chassis of PCs running Intel CPUs and ATI, oops sorry AMD, discrete graphics. Furthermore, there will initially be the option of chassis stickers without AMD on them at all for those OEMs who worry their customers will get all confused by this rebrand.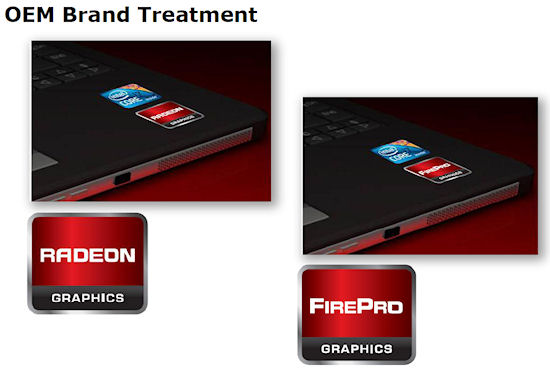 One other thing worth noting on the slide below showing AMD's 2011 branding is that the Fusion corporate brand has been dropped only a couple of years after being introduced. To be honest, AMD's over-use of the 'fusion' term has always been a source of confusion (see what we did there?) and it was time to chill a bit on that front.
With the fusion of the CPU and GPU being the main strategic justification behind AMD paying so much for ATI, it's easy to see why AMD would be desperate to keep the fusion concept near the forefront of people's minds. But it's still hard to conclude the Fusion corporate brand - complete with brand-new logo - was anything other than a complete waste of money.