Chinese tech site Benchlife has published a new roadmap which it says shows the timings for the Intel Kaby Lake processor family rollout (news via VR-Zone). This production process style roadmap indicates the timings and durations of various internal stages such as QS (quality sampling), Prod (mass production), and RTS (ready to ship).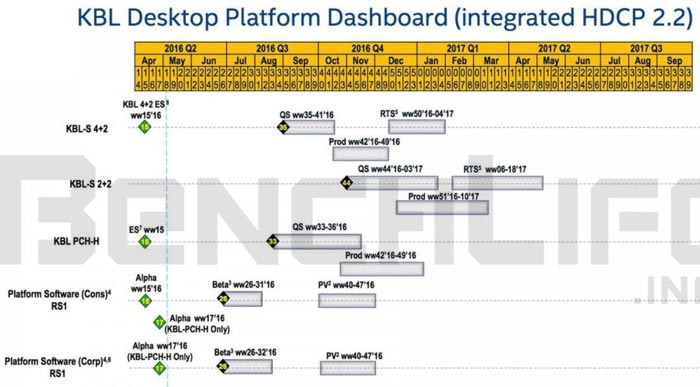 As embedded above, the purported roadmap appears to show that 4+2 core Kaby Lake S processors will start sampling in week 35, hit mass production in week 42 and then be ready to ship right at the end of 2016, from week 50. These 4+2 processors are Core i5 and i7 parts with four physical CPU cores and a pair of GPUs.
You can see that the 2+2 Kaby Lake processors for desktops will come later, not entering ready to ship status until mid-Feb 2017. These dual-CPU core products will include Intel Core i3 chips.
This newly unearthed roadmap doesn't provide any info about mobile Kaby Lake processors for laptops, convertibles, and so on. The mobile chips are likely to arrive earlier than the desktop SKUs, with devices featuring such processors expected to feature in product showcases at IFA 2016.
Kaby Lake will be Intel's third processor family built upon the 14nm process as the final step in its new 'process-architecture-optimization' regime. It should be processor socket LGSA1151 compatible but add optimisations and features beyond those that arrived in Skylake and deemed worthy of a new CPU family.